Stirling will host International XC and Inter-Districts for three years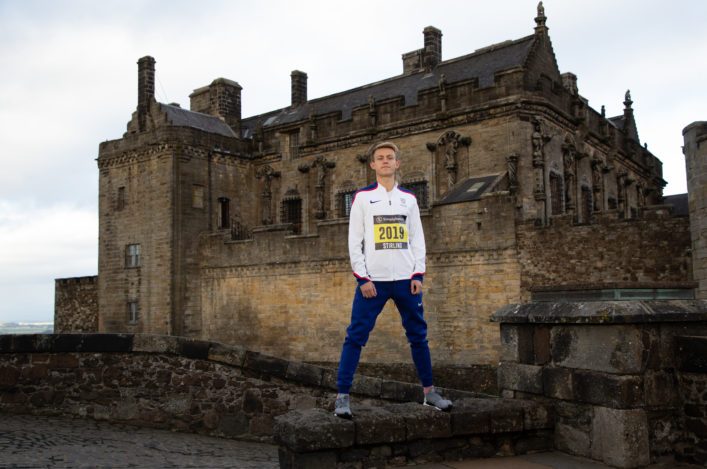 Photos by Mark Gibson
Enter the Simplyhealth Great Stirling Run
Stirling will be the place to be for top-class cross country early in 2019 and for the next three years – with the Great Stirling XCountry event set to take centre stage on Saturday 12 January.
It's a switch of venue from Edinburgh after many years and the central Scotland location looks perfect for an event which features running at various levels, from the top class international action to our own Inter-District XC Champs and also a new mass participation off-road event called the Simplyhealth Great Stirling Castle Run (over 7.4K).
And Scotland teams will again compete in the International 4 x 1K Relay event which has proved very popular in recent years at Holyrood Park.
Now Stirling is the venue for the next three years and scottishathletics are delighted to partner with Stirling Council, Great Run, sportscotland and Event Scotland for what will be a busy and exciting programme on Saturday 12 January.
The Simplyhealth Great Stirling XCountry moves to Stirling after 13 years in Edinburgh, with the new location providing a fresh backdrop for the live, televised event on the grass and hills around Stirling Golf Club and in Kings Park, as international and domestic athletes battle it out for honours.
First staged in the North East of England in 1988, before moving to Scotland, the event has a rich history of elite competition and has seen athletes such as Eliud Kipchoge, Kenenisa Bekele, Paula Radcliffe, Liz McColgan and Haile Gebrselassie compete.
In recent years the crowds have been treated to performances from Sir Mo Farah as well as Scottish athletes Laura Muir and Callum Hawkins, with the hugely popular Inter-District races giving the stars of the future the opportunity to rub shoulders with some of the world's top athletes.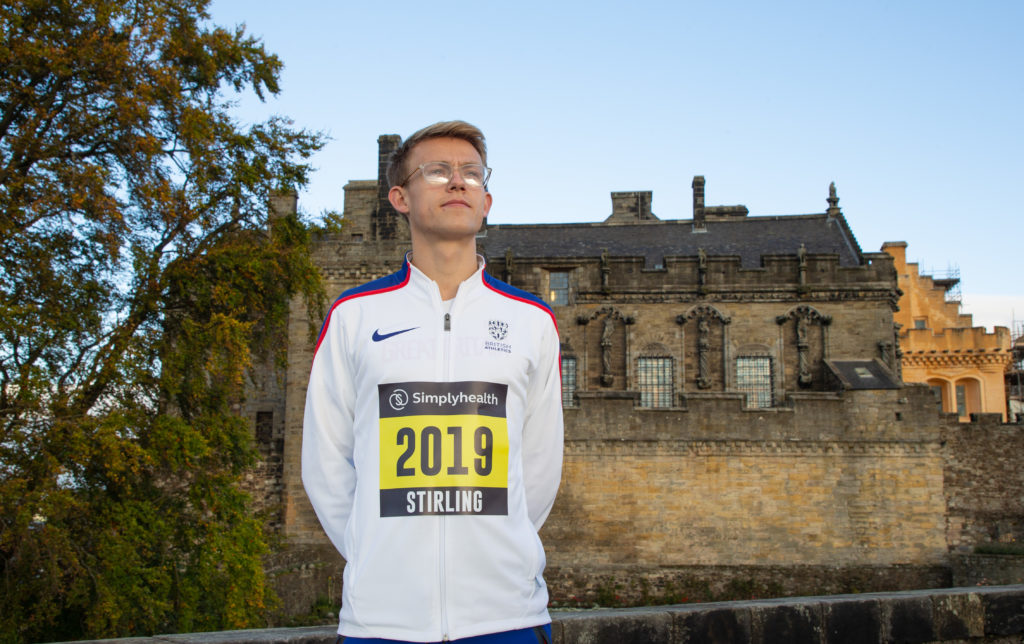 'I'm setting myself some big targets for the cross country season and to compete in this new event at Stirling is definitely one of the them,' said Luke Traynor, the GB and NI athlete from Giffnock North AC at the Stirling Castle photo call.
'I'm racing this weekend coming up in the Manchester Half Marathon and then will look do a strong block of training to prepare for the Euro Cross trials at the end of November in Liverpool.
'I missed out last season and would love to get to the Euro Cross, the Great Stirling XCountry and then race the Lindsays National XC in February.
'Stirling looks a really good location for the event after a few years in Edinburgh. It should work for the Inter-Districts and I think young athletes always enjoy that day when they can come along and race as well as watching top class international cross country.'
The Great Stirling XCountry and the off-road 7K run are latest events to be announced for Stirling which will again host the Simplyhealth Great Stirling Run marathon and half marathon events on Sunday 28 April 2019.
Geat Run Company chairman Brendan Foster said: 'We're delighted to announce a brand new event for Stirling in 2019.
'As we have already learned with the development of the marathon and half marathon as part of the Simplyhealth Great Stirling Run over the last two years, Stirling is a city that embraces sport and activity, and I'm sure this event will prove to be just as popular with runners.
'Having the 7K race take place at the same time as the Simplyhealth Great Stirling XCountry will make it a real festival of sport on the day. The cross country is a world-class prestigious event with a rich history and a bright future – and we are looking forward to seeing everyone on January 12.'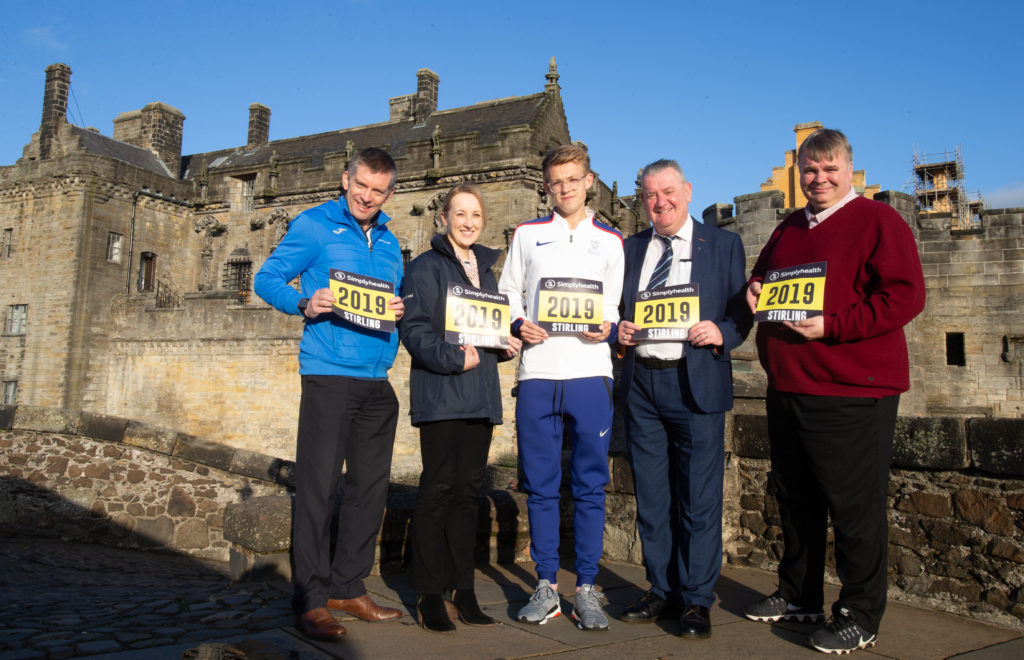 Mark Munro, chief executive of scottishathletics, said: 'We're looking forward to an exciting event when the International XC and the Simplyhealth Great Stirling Castle Run come to Stirling early in the New year.
'It's a great opportunity for athletics fans in Scotland to watch world class athletes compete in cross country and then we combine that programme with our own Inter-Districts races, with the best club athletes from our three regions involved in their team colours.
'With the Simplyhealth Great Stirling Castle Run on-going too, and over 7K this year, I think there's a chance for many others who are enjoying the current running boom to be part of the day by taking on the run and also watching the International XC and Inter-District races.
'I'm sure Stirling will be an ideal host and venue and, in terms of our club athletes from the North, East and West it should be more accessible and central than in recent years.'
Councillor Scott Farmer, Stirling Council Leader, said:  'This exciting event will allow residents and visitors to participate in a prestigious sporting spectacle on a truly unique course.
'The route will be challenging yet inspiring, encompassing a number of Stirling's iconic and historical landmarks and showcasing the area's stunning scenery, making it an unforgettable experience for entrants.
'Having this mass participation run will generate an incredible atmosphere in the city, and we are looking forward to welcoming people from across Scotland and beyond.'
Paul Bush OBE, VisitScotland's Director of Events, said: 'Event Scotland has a long history with the XCountry, having supported the event since it came to Scotland in 2005. We are delighted to be continuing our support for the XCountry in its new location in Stirling as well as the new Simplyhealth Great Stirling Castle Run.
'Like the previous editions of the event in Edinburgh, the Simplyhealth Great Stirling XCountry and Castle Run will provide the ideal start to our exciting year-round portfolio of international sporting events, utilising our amazing natural environment and the iconic backdrop of Stirling Castle to show runners, spectators and the TV audience why Scotland is the perfect stage for events.'
Enter the Simplyhealth Great Stirling Run
Tags: Event Scotland, Great Run, Great Stirling XCountry, Luke Traynor, Simplyhealth Great Stirling Castle Run, sportscotland, Stirling