Traynor and Ross land Scottish Half Marathon golds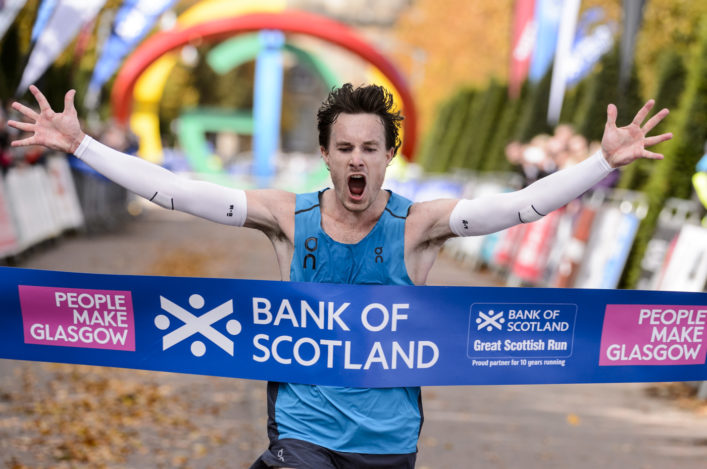 Chris Thompson savours the moment as he wins the Great Scottish Run for the second year in a row (photos by Bobby Gavin)
Chris Thompson took the Great Scottish Run headlines for the second year in a row – as Luke Traynor landed the Scottish Half Marathon title in third place.
GB international Thompson was imperious in 2017 when he won from Callum Hawkins and he repeated that feat in fine style, pulling away early from Traynor and then building that lead.
Nonetheless, it was a solid performance from the Giffnock North AC athlete to top the podium in the Scottish Half and see off the challenge of the likes of Commonwealth marathon champion, Mike Shelley, in the race itself, with the Australian finishing fourth.
Polish athlete Marcin Chabowski had taken second between the Englishman and the Scot, who previously won the 10K at this event a couple of times in his Giffnock North AC colours.
'It was tough today and I should be capable of running that like that without finding it so tough – I'm just a couple of weeks short, probably.' said Luke, with Thompson home in 62.07, Chabowski in 62.24 and Luke at 62.56.
'I'm proud of how I ran but I don't have that endurance yet to hold that pace. It was super-windy and it was a grind and Chris has been up at altitude so I couldn't keep up with him.
'But I feel I'm in the process of taking that next step. I'm ready to hit a big half-marathon. He was ready here and I wasn't. This summer I had unfinished business on the track but I had maybe too long a break afterwards. I will do some cross country this winter and take it from there.'
Traynor was followed home for the Scottish medals by Shettleston's Tsegai Tewelde (65.30) with third place for Inverclyde's new recruit, Sean Fontana (66.11).
Derek Rae had another superb day at the office, racing for a long spell with Women's race winner, Mare Dibaba.
Dibaba won in 69.15 from Rose Chelimo (70.07) and American Alia Gray (73.32) – with Rae landing an unofficial PB of 69.25.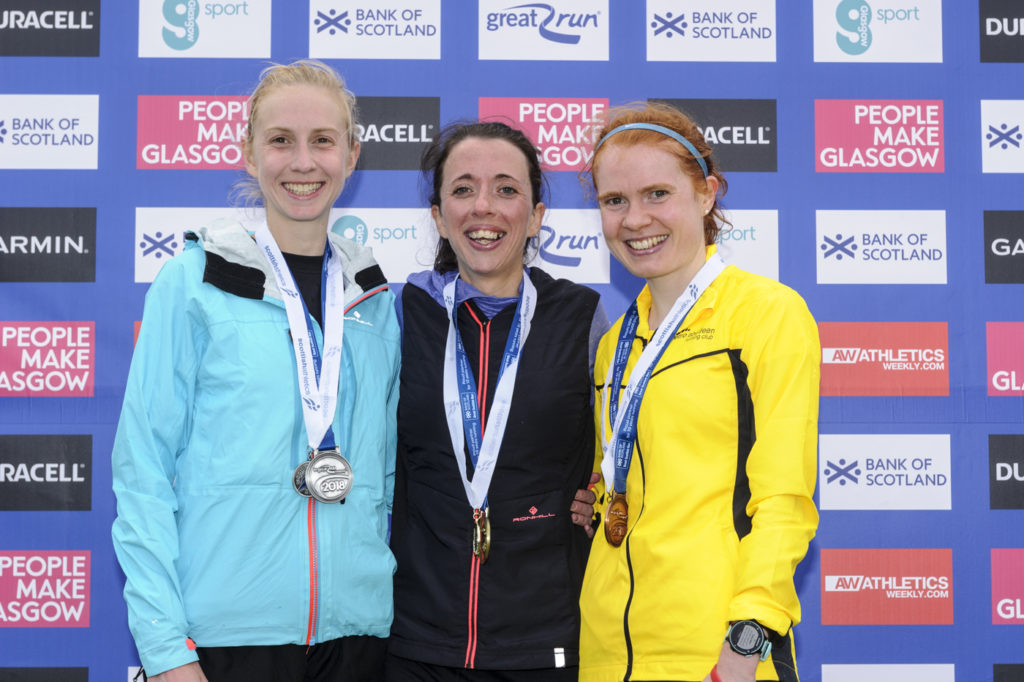 Fionnuala Ross of Shettleston really loves this race – as evidenced by silver medals in 2015 and 2016 and then winning the Scottish title two years in a row.
'I do love this event! It is my favourite half marathon course and the crowds are really good cheering you all the way around,' who won in 74.11 from silver medallist Gemma Rankin of Kilbarchan AAC (77.53) and Claire Bruce of Metro Aberdeen (78.27).
'I'm very pleased to get a PB by a few seconds because it was windy out there. They were saying it was blowing you home towards the finish but it didn't feel like that out there!
'It has been a really good year for me in terms of Scottish championships – I've won the 10,000m on the track and the 10K on the road at Stirling.
'Now the target is to try and get back to the Euro Cross with Ireland this winter. It comes down to the trial race in the Irish XC National Champs at the end of November.
Taking the Scottish Half Marathon Masters championships golds were Avril Mason of Shettleston (79.05) and Scott Brember of Central AC (71.41). The other medallist there were Lyndsey Currie and Louise Ross in the women's race and Leon Johnson and Kerry-Liam Wilson in the men's.
*We will add detail on the team championship medals in due course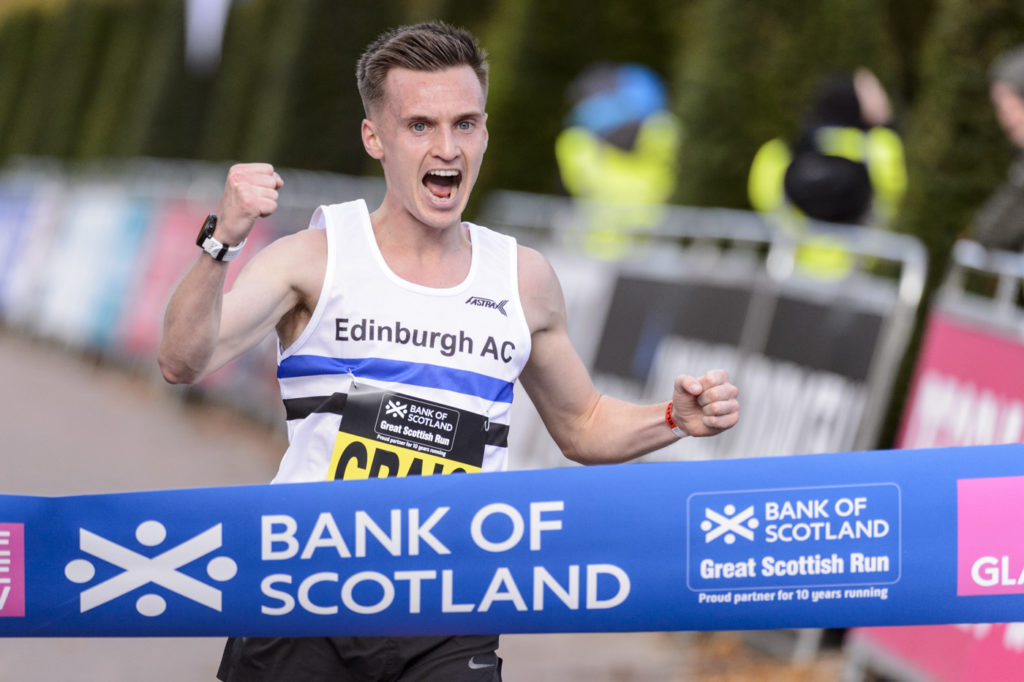 Adam Craig of Edinburgh AC won the men's race in the 10k with a fine run timed at 29.43 to break the 30-minute barrier in fine style.
Cameron Strachan of Metro Aberdeen took second place in 31.20 closely followed by Shettleston's Daniel Bradford in 31.22.
'I was in the States for three years and graduated in May,' said Adam.
'I am now living in Glasgow and putting in a good year getting my times down and then trying to see if I can go full-time as an athlete. I was looking for sub 30 today and I am happy with the win and the time. I've only run one 10k on the road, and that was some years ago in Leeds.
'On the track I've run 29.39 so, with it being a bit windy today in Glasgow, that was decent and sets me up for the next few weeks of training.
'I will do some cross county over the next couple of months but the main focus will be the indoor season and see if I can make a bit of progress there. I'm at Cardiff for the British Cross Challenge next and then will hopefully do Cumbernauld for the Lindsays National XC Relays.'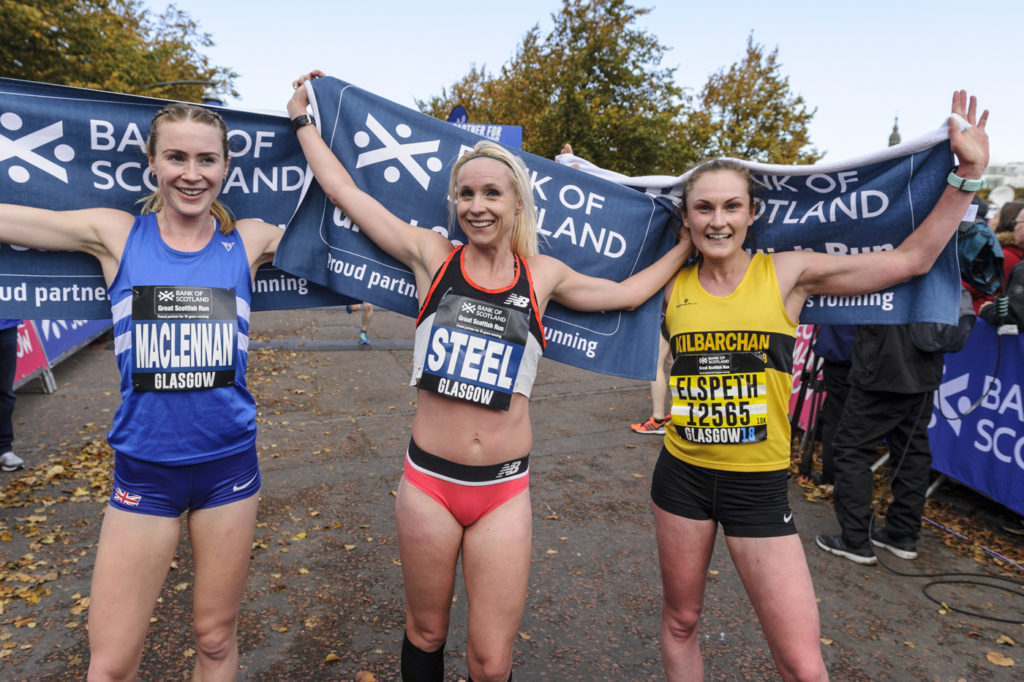 GB international Gemma Steel led home the women's field in 34.00 with Mhairi Maclennan only 12 seconds adrift of that in second place. Kilbarchan AAC's Elspeth Curran was on the podium in third with 35.11.
'I enjoyed it and this is always a good event,' said Mhairi.
'The start-list didn't seem to be available so I wasn't sure who was running – then I saw Gemma Steel on the start-line and knew we were in for a good race!
I led her for maybe 5k or 6k and then we raced a bit until about 7k but then she got away. As it happens, the difference is 12 seconds so that is not a bad marker for me for the season and this was a good way to start. It is hilly in places so I wasn't looking for a time, to be honest.
'I am signed up and booked up for Leeds 10k and that's always a great race. And then there are some cross country races between now and then in preparation for Liverpool and the Euro Cross trial. I'm going to do Cardiff and also an Irish cross country race and hopefully will be at the Scottish 4K, too.'
There was a second successive women's wheelchair race win for Sammi Kinghorn – but soon track will be her focus again.
'It was fun – well, maybe apart from the hills,' said Sammi, who clocked 30.36. The men's race was won by Patrick Monahan in 24.31.
'The crowd and the music was great, I was singing Katy Perry's 'Roar' at one stage and that kept me going for about one kilometre!
'I'm racing the Jedburgh 10K in a few weeks because that one is local to us as a family in the Borders. Then, after that, it will be all about winter training and the track next summer.
'Come to think of it, this time next year I will hopefully be in a sunny place and won't be able to race Glasgow. I'll need to make sure I'm in a sunny place by then and preparing for the IPC World Champs in Dubai.'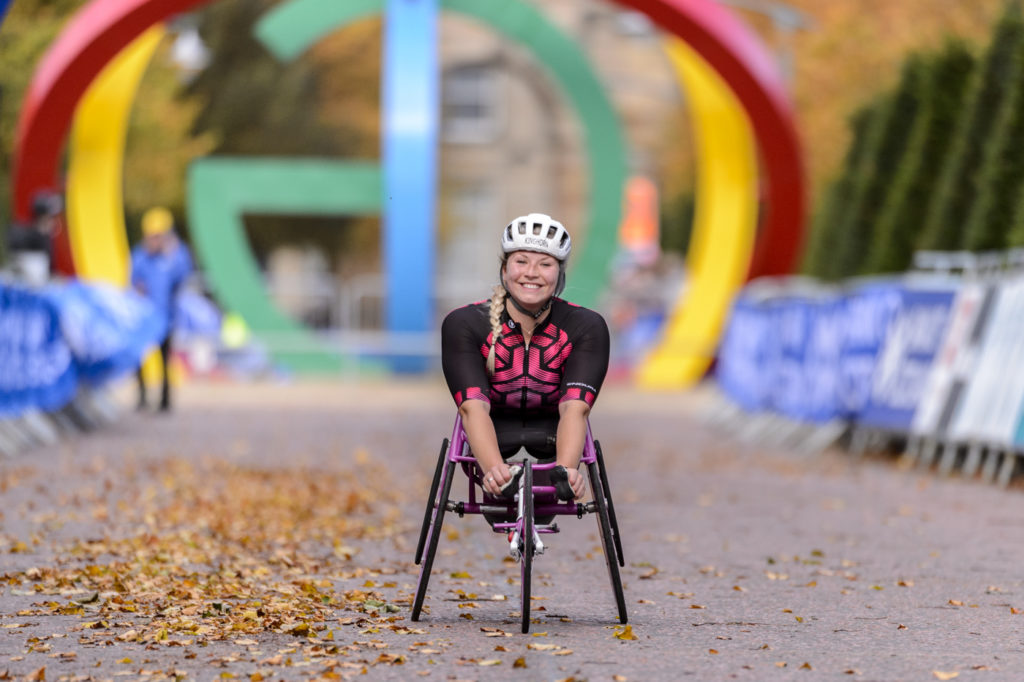 Tags: Adam Craig, Bank of Scotland Great Scottish Run, Chris Thompson, Fionnuala Ross, Gemma Steel, Half Marathon Champs, Luke Traynor, Sammi Kinghorn