Magnificent Muir takes gold and Eilish lands 5000m silver!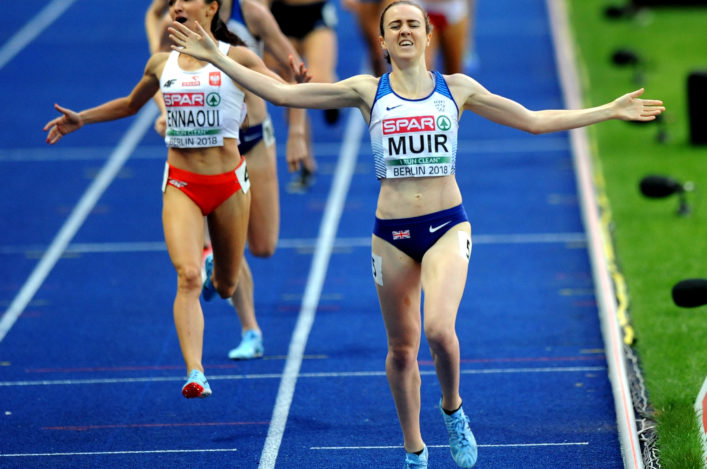 Photo by Mark Shearman in Berlin
Laura Muir landed gold in fantastic style at the European Championships in Berlin – with Eilish McColgan following that up with silver in the 5000m only a few minutes later.
It was a special night for Scots in the Olympic Stadium as two more members of our #SALSuper17 delivered big performances.
Muir was at her imperious best – running the way she loves; from the front – to take the 1500m title that marks her first outdoors gold medal at a major championships.
With a European Indoor double and a World Indoor double in the past 18 months, that's now five significant medals in a short period for Laura to surely silence any lingering doubters on her awesome quality.
Eilish, for her part, responded with a strong, aggressive run in the 5000m which ensured she would justify her high ranking and come home in under 15 minutes behind Sifan Hassan, who set a Championship Record.
It means five Scots come home from Berlin with medals after bronze for Jake Wightman in the Men's 1500m and that bronze for the GB and NI quartet in the 4 x 400m team led out by Zoey Clark and anchored home by Eilidh Doyle.
Here's your EUROPEAN 1500M CHAMPION, LAURA MUIR! She tells us: "I'm so happy. I've shown I can deliver indoors, and outdoors I've missed the medals these past two or three years, so to come here and to win a medal, and for it to be gold – oh I'm so chuffed!" And there's a wee thanks in here too to everyone who's supported her at home in recent months…

Posted by Scottish Athletics on Sunday, 12 August 2018
Laura went clear at the front with just under three laps to go and pushed on thereafter to take it in 4.02.32 as Sofia Ennaoui of Poland managed to over-haul Laura Weightman to take the silver, with the Brit landing bronze.
Well done Laura, her family and coach Andy Young!
'I just knew there were a few girls in there who had a good kick, so the longer I left it in the race the more dangerous it would be,' said Laura.
I wanted to make it a true 1500m race, not an 800m race. That's why I took it on further out; I just had to trust my pacing to judge it right, but I did and I'm really happy.
'It's one thing being fast on paper, but in 1500m there are so many different ways to win, so to come here and deliver gold is great.
'I think it ranks at the top [in regards to other achievements] – I delivered well indoors, but to deliver outdoors and for it to be gold when you're under quite a lot of pressure is a big achievement for me.'
EILISH McCOLGAN, 5000m EUROPEAN SILVER MEDALIST – tells us that both she and her coach (and mum!) Liz, are delighted with her race here in Berlin: "I'm just so happy that I listened to my coach's plan for once, followed through on what she said! I know she's so happy with it, she said it's the first time I've ran my own race and executed it the way that WE want rather than being scared and following everyone else, so I'm honestly so happy, I couldn't have asked any more today."And she reveals that, as she waited in the call room, she saw Lauras Muir & Weightman medal: "I just thought – I want one!"

Posted by Scottish Athletics on Sunday, 12 August 2018
Laura & Eilish videos by Sue Gyford in Germamy
What a 5000m race at the European Championships and a superb run from Eilish landed her a silver medal in 14.53.05.
Dutch athlete and race favourite Hassan took the gold as expected and McColgan delivered a great performance to win the silver – taking advantage to an extent of a lap-count error by Lonah Chemtai Salpeter.
'My mum said to be 'you know you're in PB shape, you know you are, run the way that's best for you',' said Eilish.
'It was a bit scary to be running 4k on your own, I thought 'oh my god they're going to come past at some point', but she even said 'when they come past down be scared, just latch on, it's not going to be that fast but you're already running at a fast pace'.
'I'm so happy – I can't explain how happy I am.'
Steph Twell took 11th place and Melissa Courtney finished sixth.
Tags: Berlin 2018, Eilish McColgan, European Championshps, Laura Muir, Steph Twell