FPSG Seniors and U17s – Saturday review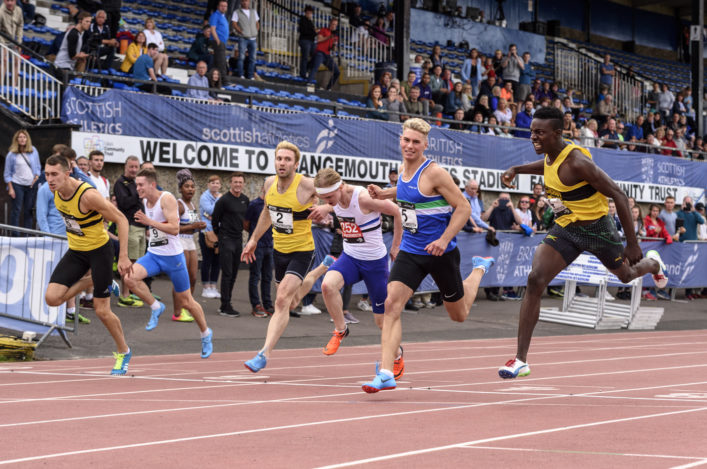 Action from the Men's 100m final as Alec Thomas wins a photo-finish with Praise Olatoke (photo by Bobby Gavin)
Start-lists, timetable online (LIVE RESULTS on Saturday and Sunday)
LIVE STREAM event footage on Vinco
Throwers Kirsty Law and Chris Bennett came back to Grangemouth from Germany to win gold at the FPSG Scottish Senior Champs.
But, with fatigue a factor after representing GB and NI in Berlin and travel, neither could reach the distances asked to claim a slice of the £2000 prixe pot put up by scottishathletics.
The pot now rolls over to Sunday's action at Grangemouth and the second day of the FPSG Seniors.
Law won it with 53.08m and Bennett the men's hammer with 70.75m – with the standards in those events at 54m and 71m respectively. Law's victory was her 11th Scottish Senior title and that is a record in the women's division of the Scottish Senior Champs.
Ir was great to see a number of Scotland's better-known athletes in action on Saturday with that list including – both in finals and in heats – Jax Thoirs, Greg Millar, Nick Percy, Michael Olsen, Grant Plenderleith, Jamie Williamson, Mhairi Hendry, Kelsey Stewart, Sol Sweeney, Chuxx Onyia and Zara Asante among them.
Picking up Senior golds and not already mentioned (here or below) included Anthony Daffurn in the Triple Jump, Mike Deason in the 3000m steeplechase, Mhairi Maclennan in the 5000m, Mhairi Porterfield in the shot and Laura Armorgie in the High Jump.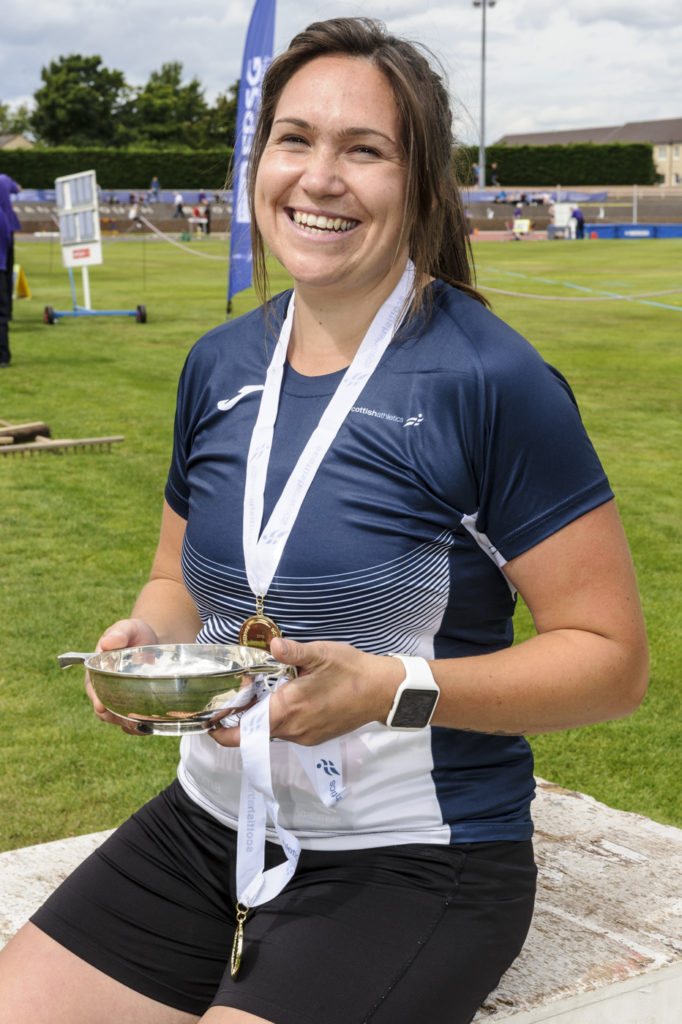 Kirsty Law savours the moment at Grangemouth (photo by Bobby Gavin)
Kirsty Law took gold No 11 at the Scottish Champs – after a journey from Germany to Grangemouth that really did involve trains, plane and automobiles.
After throwing in the Olympic Stadium in Berlin on Thursday morning, Kirsty made a decision late that evening to come and compete at the FPSG Seniors.
A best of 53.08m won her the discus event and she will represent Scotland on Wednesday at the Manchester International.
'I was swithering about coming back and took the decision at 11pm on Thursday evening,' she said. 'Flights from berlin were fully booked so I ended up taking a train to Hamburg and flying from there to Edinburgh. I actually made it to the hotel in Grangemouth at 1am on Saturday morning.
'I thought I had a good chance of reaching 54m for the prize pot but it hasn't happened. I think the prize pot is a good idea from scottishathletics and it looks to have tempted some better athletes to compete. I think it is good it applies only to Scottish event winners, too.
'I've just about decided not to retire. I threw my PB in 2012 and I don't really want to retire without bettering that again. If I do go again, then it will be for two years and I will keep working hard to try and improve. I have enjoyed this season and that's a big thing for me after so many years in the sport.'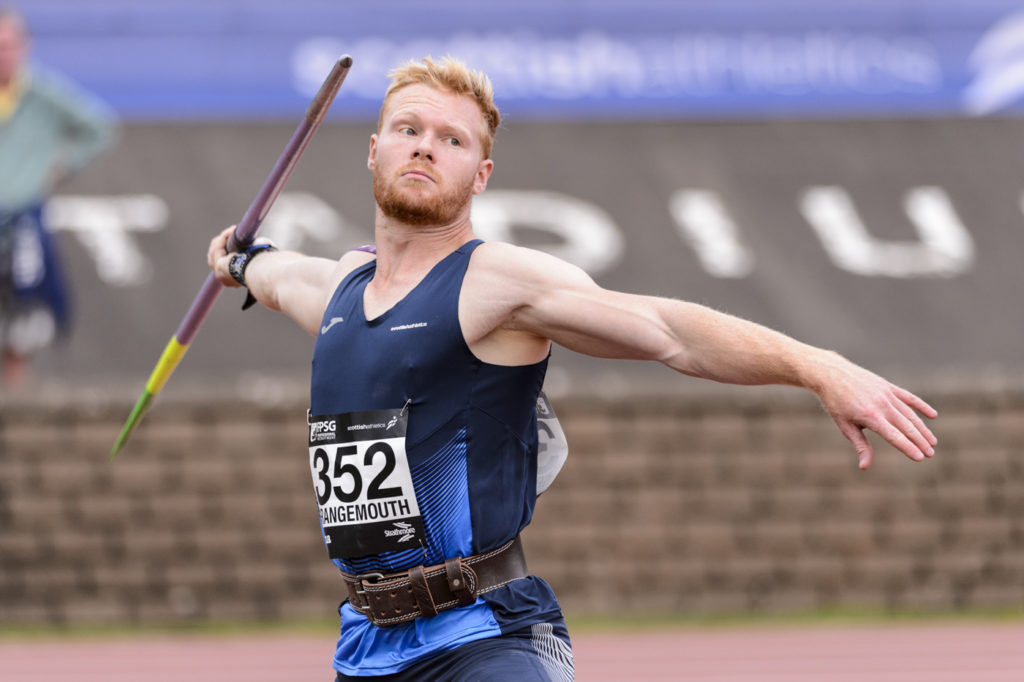 Greg Millar – took another Scottish Championship gold at Grangemouth on Saturday (photo by Bobby Gavin)
There were 100m title wins for Alec Thomas of VP-Glasgow and Katy Wyper of Blackpool – with the latter defending her title with a run of 11.88 seconds.
Thomas clocked 10.85 seconds and won on a photo-finish with Kilbarchan AAC's Praise Olatoke (10.85) as Greg Kelly of East Kilbride took third (10.90).
'It's my first outdoor title in the Seniors and it is a fantastic feeling,' said Alex.
'I've brought my PB down this season to 10.60 and today just adds to what has been a good season. I couldn't have told you who had won between myself and Praise on the finish and it come down to the thousandths and a photo to separate us.'
Jax Thoirs won the Men's pole vault title, a very popular win after almost nine months out for the VP-Glasgow athlete who was selected for Gold Coast 2018 but had to withdraw though injury/illness.
'It is good to be back and it felt good to clear 5m,' said Jax, with a 5.06 clearance his best.
'Basically it all felt the same as before so that's positive. I am still on blood thinning tablets and the medical people told me it was up to me whether I wanted to vault or not. I love it so much . . . so I will carry on.'
+++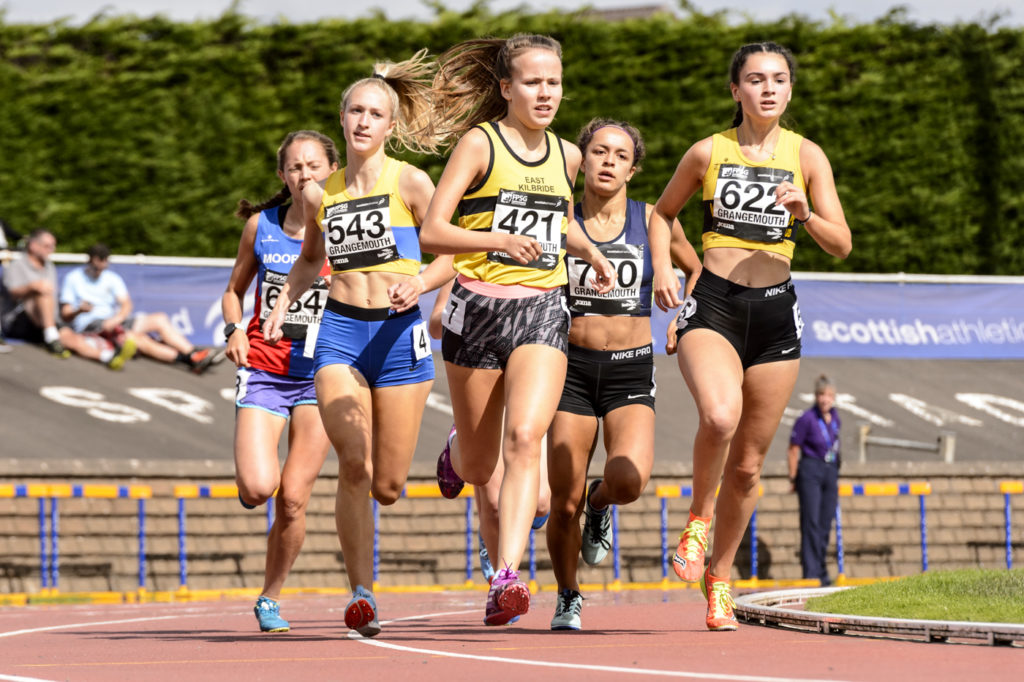 In the U17 Champs there were a number of notable performances by some of our emerging athletes.
Scott Brindley of North Ayrshire claimed a Championship Best in the pole vault with 4.45m as silver medallist, Reuben Nairne of Giffnock North, also bettered the previous best with 4.35m – a new PB.
Edinburgh AC's Ellie O'Hara delivered an 11.77m CBP in the Triple Jump, too.
PHOTOS by Bobby Gavin on Facebook

Tags: FPSG Seniors and U17s, Grangemouth