Fiona relishes Danish half opportunity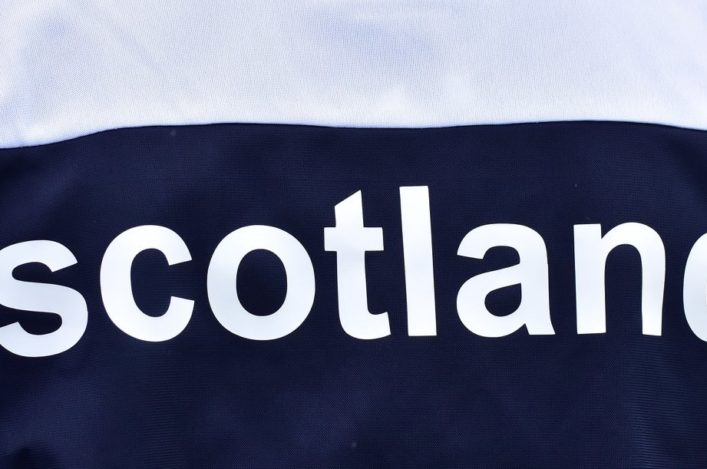 Live Steam on Lillebaelt Half Marathon website 1pm on Saturday
Fiona Brian heads for Denmark this weekend to race for Scotland in the Lillebaelt Half Marathon hoping to continue her marked improvement over the past couple of years.
The Metro Aberdeen runner will be joined on the trip by Kenny Wilson of Moray Road Runners – giving the Scotland selections a real North-East feel – and another athlete who has come on spectacularly in the past 12-18 months.
Brian, for her part, can pretty much pinpoint the moment just over two years ago when she started to demonstrate an ability to step-up a level.
'I was training for my first marathon in 2016 and it was probably through that increased mileage that I received my first Scotland vest for the Home Countries International,' recalled Fiona (Rudkin at that time).
'It was staged at Falkirk that year with Scotland as the hosts and being selected helped give me a boost. In many ways things have just moved on quite well for me from that time.
'I've also been coached for the past couple of years by Mike Johnston and I have to say Mike's guidance and experience has been massive in helping me reach a higher level and achieve better times.'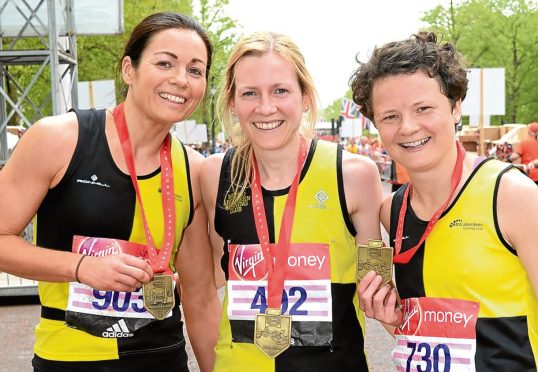 London Marathon 2017 – Fiona Brian (centre) celebrates  British Champs success with Hazel Wyness and Jennifer Elvin
Modesty prevented Fiona from pointing it out but it's reasonable to suggest that selection back in 2016 seemed to help galvanise Metro Aberdeen – certainly on the female side in events thereafter.
'It was good for the club at the time and, since then, our women have achieved first National Championship medals at Falkirk in 2017 and then we won British Championship golds at the London Marathon that year,' she agreed.
'Now Kayleigh Jarrett, my Metro Aberdeen team-mate, has also represented Scotland in XC and there's definitely a bit of banter within the club about the girls doing better than the boys – I can say that because my husband, Tom, is the Men's team captain!
'I've had two 75 minute runs in the Big Half and then in Valencia (in the non-elite race at the World Half Champs) and was pretty pleased with them both.
'The Valencia one, in particular, was run in bizarre conditions because in the course of a half marathon we really did have all sorts of weather. At one stage, running into a headwind was very difficult and I didn't think I'd even break 77 minutes – but the tailwind over the last two or three miles definitely helped!
'I am going over to Denmark and I'm determined to try and be competitive for the places if possible. I've looked at past results and Scots have done quite well there in the last couple of years.
'I raced the Leeds 10K for Scotland, also, so this is my third vest and it's always a real honour and a confidence boost.'
Wilson doubtless feels the same and he has the boost of a recent 5k course record at Run Balmoral, when he bettered the time of Olympian Andy Butchart no less, to demonstrate good form.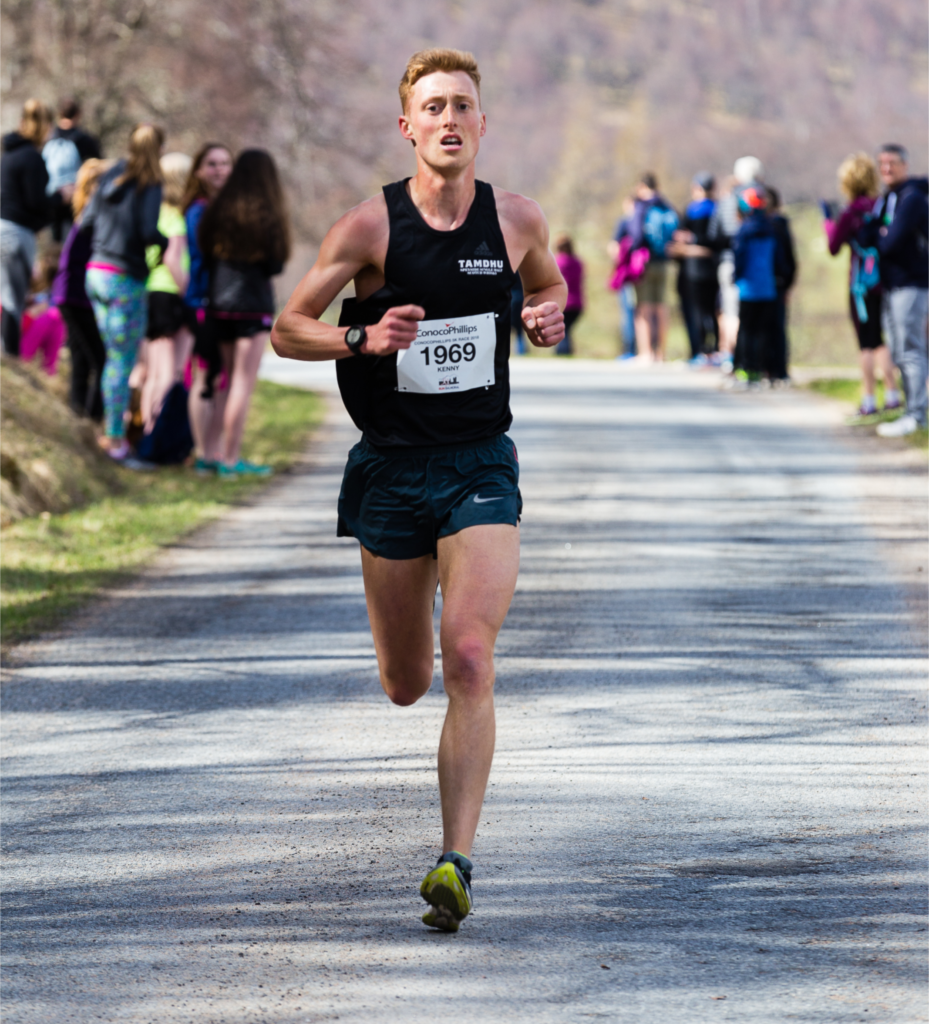 Kenny Wilson – superb 5K course record run recently at Balmoral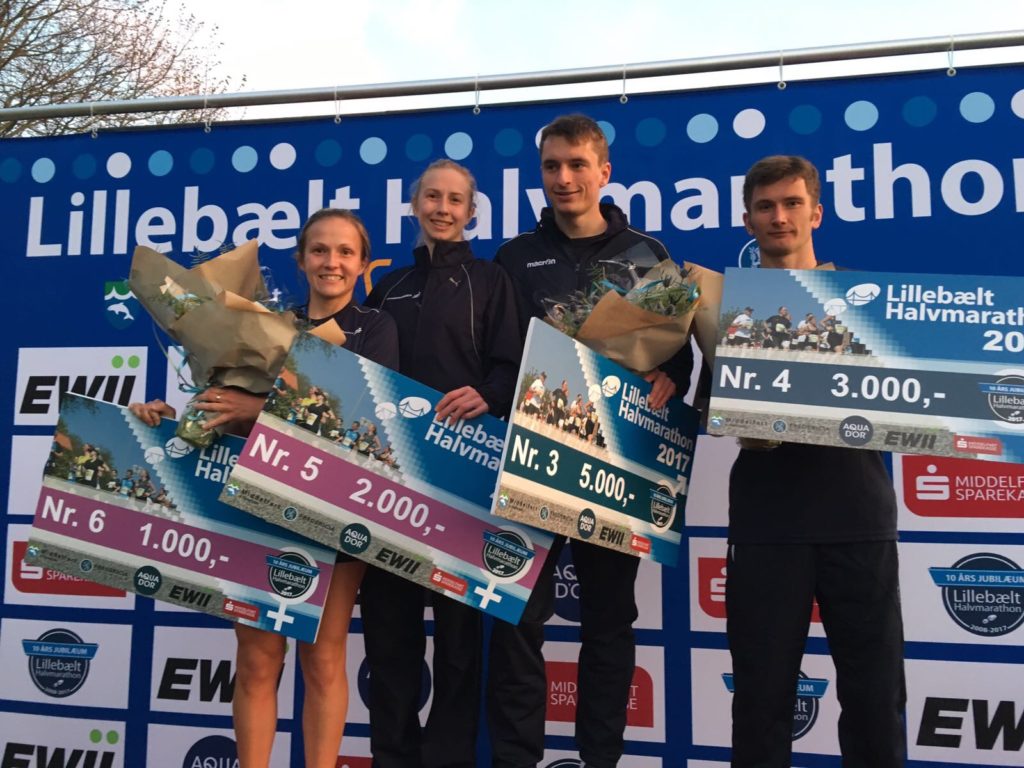 Scottish athletes on the podium in Denmark last year – Jenny Bannerman, Gemma Rankin, Cameron Milne and Derek Hawkins
Tags: Denmark, Fiona Brian, Kenny Wilson, Lillebaelt Half Marathon