Scottish Schools records; 10-Mile Champs; World Cup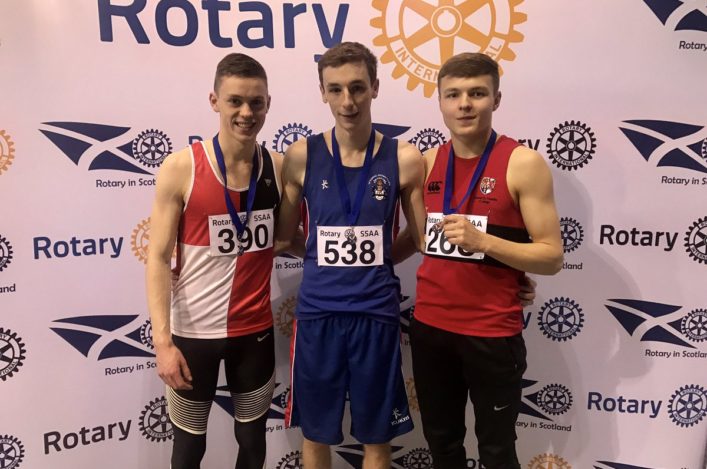 Alessandro Schenini on the podium at the Scottish Schools for the long jump, with fellow medallists Joel McFarlane and Callum Henderson (photo via Twitter)
Herald feature on the Scottish Schools
The Scottish Schools indoor event took place at the Emirates Arena over two days last midweek with support from Scottish Rotary.
Once again there were some fine performances and we understand five of those were Championship Best performances in different age groups and disciplines.
Alessandro Schenini took gold in the O16 Boys long jump with a new record leap of 7.31m in his final round jump, after already beating the CBP with 7.25m earlier in his series. That 7.31m matched Alessandro's effort in taking silver at the FPSG Seniors.
And Dylan Thomson cleared 4.71m in the O16 Boys pole vault with a height which takes him to sixth place on the all-time list indoors for U20 athletes.
'This event is great because it prepares you for the future. It pits you against some good competition and it also gets you competing in a big arena, in front of a crowd, which is important moving forward,' Dylan told Susan Egelstaff for a special article in The Herald.
Like Alessanro, that was a Championship Best from Dylan and there were three other CBPs: Shona Crossan – O16G Shot; Sol Stewart – U16B 300m; Teddy Tchoudja – U16G Shot.
More details on the SSAA Twitter feed (including a lot of Results sheet photos from the two days)
+++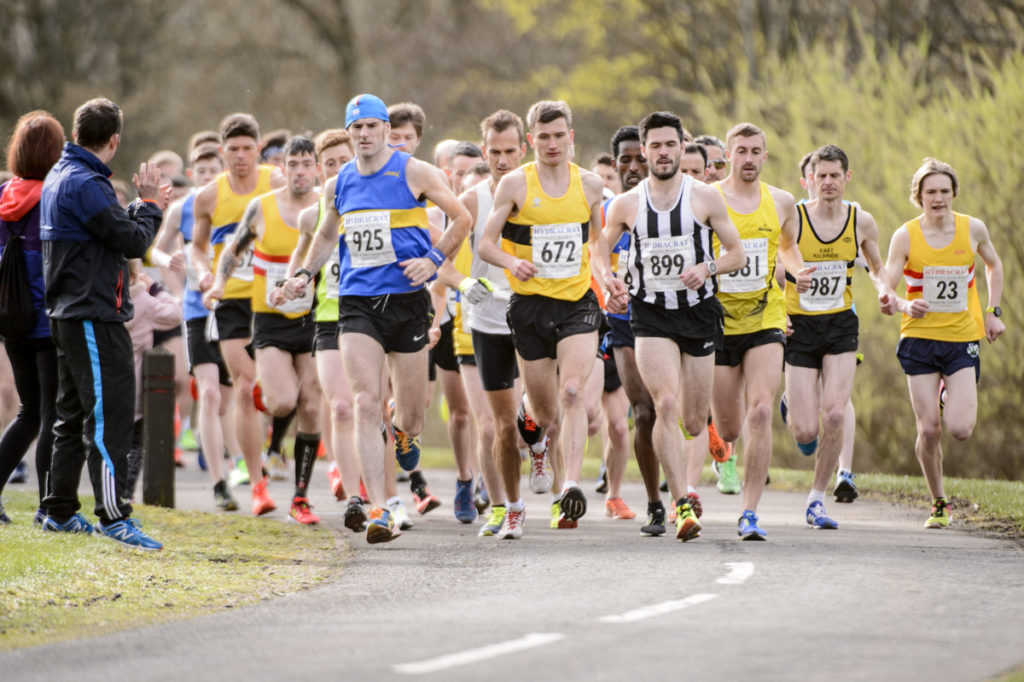 Action from the 2017 Tom Scott Road Races (photo by Bobby Gavin)
The 56th Tom Scott Memorial Road Races will once again see hundreds of athletes travel to Strathclyde Park in Motherwell on Sunday 1 April for the Scottish 10-Mile Champs.
There are two races taking place that day, the 10-Mile Championship race and the Round the Loch 6k. The longer race plays host to the Scottish 10 Mile Championships and West District 10 Mile Championships , as has been the case in recent years.
The Round the Loch 6k attracts athletes of all abilities – a great run for those who prefer shorter distances! Race start for both is at 10am on Sunday 1 April and we understand there are already a number of entries received for the 10-Mile Champs.
Declarations open from 8:45 to 9:30 on the day. Pre-entry only – online and by post (via website), no entry on the day
Scottish 10-Mile Champs:  Sunday 1 April
+++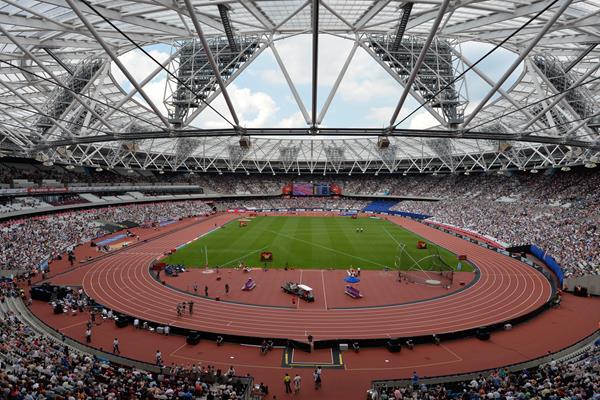 British Athletics has confirmed that eight of the world's top athletics nations will compete in the Athletics World Cup London 2018 this summer – and bid for a $2million prize pot.
Following on from the success of London 2017 which saw the capital become the first city ever to stage both the World Para Athletics and IAAF World Athletics Championships in the same year, fans of the sport will once again see the best countries competing in the UK, in the greatest athletics stadium in the world.
The competition format featuring all field and track events up to and including the 1500m will star the world's eight leading athletics nations over those disciplines: USA, Great Britain & Northern Ireland, Poland, China, Germany, France, Jamaica and South Africa. The ground-breaking two-day event takes place under floodlights across Saturday 14 and Sunday 15 July at the London Stadium.
With just one man and one women from each nation selected in each event in an all-straight final format, the biggest competing nations are set to be welcomed back to London this summer, with registrations open on www.athleticsworldcup.org following which a ballot for tickets will be held in April 2018.
Fans can register their interest in attending the Athletics World Cup at www.athleticsworldcup.org
Tags: Athletics World Cup, Emirates Arena, Scottish 10-Mile Champs, Scottish Schools, Tom Scott Road Races