125th Seniors – Saturday Review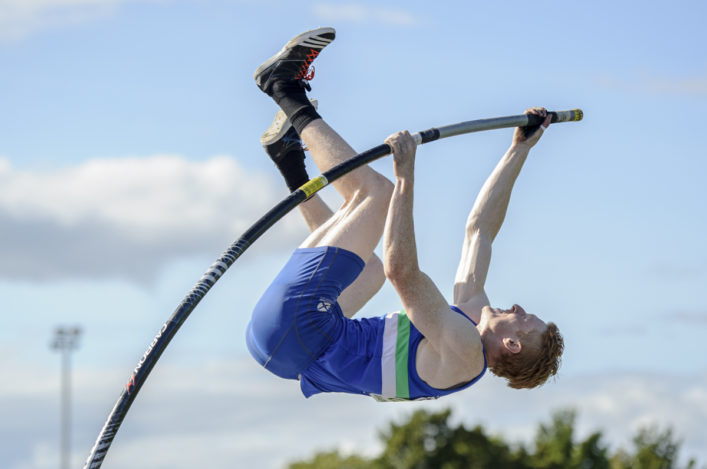 Jax Thoirs in action at Grangemouth as he clears a Championship Best in pole vault (photo by Bobby Gavin)
VIDEO track highlights from Day One
The 125th scottishathletics National Senior Champs kicked off with the early arrival of the Queen's Baton Relay as an untimely downpour declined to dampen the celebrations and ceremony at Grangemouth.
When the grey skies quickly cleared, Jax Thoirs soared to a new Scottish Senior Championship best to stake his claim for a Commonwealth Games place in 2018.
Kirsty Law made it a tenth Seniors discus title in her career and there were a number of other former medallists making return trips to the podium on a day when the U17 Champs featured a number of PB performances.
(We will Round-up U17 Champs after Sunday's events)
VP-Glasgow athlete Thoirs, silver medallist at the British Champs in Birmingham in July, cleared 5.32m at Grangemouth to beat the best performance set by English athlete Nick Cruchley at 5.31 some six years ago.
Jax then went close to an overall Scottish Record in his third attempt at 5.52m and now hopes his performances this season will be enough to make the Gold Coast 2018 team.
'I'm pleased with that because I have only won this once before as it happens and you never know when something like a Championship Record might come around again,' said Jax, who is coached by Colin Sinclair.
'I hope I have shown this season I can perform when it matters as I have at Birmingham, the Manchester International and now the 125th Scottish Seniors. The third attempt at 5.52m was definitely close and I am a bit gutted with that but it has been a long season, so I have to be pleased.'
LIVE STREAM on runjumpthrow.com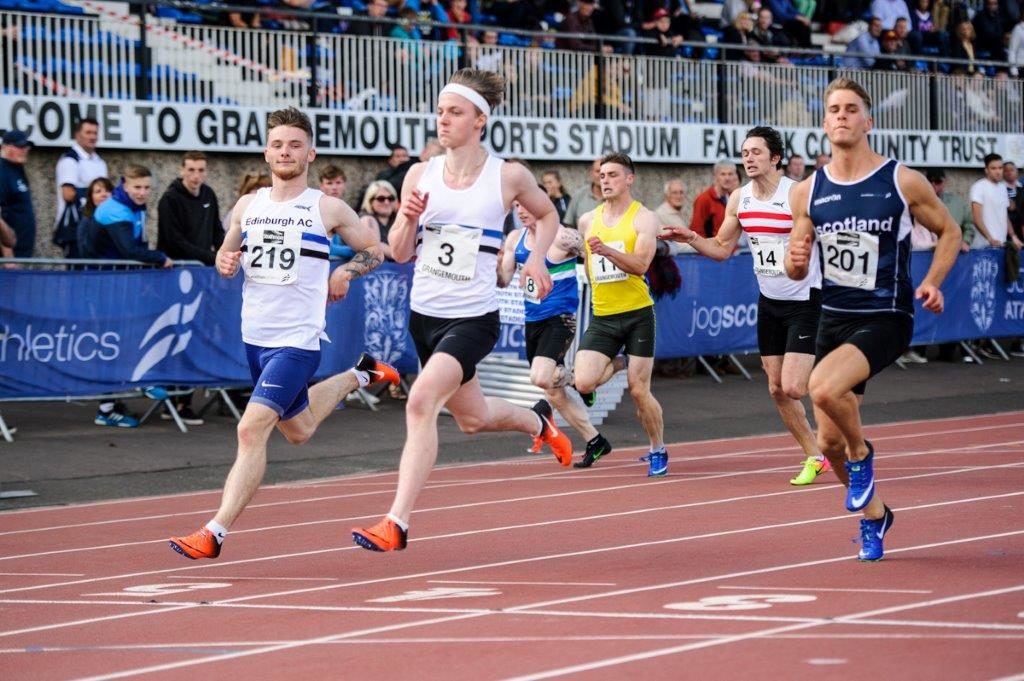 Tindle and Olsen in action in their semi-final (photo by Bobby Gavin)
Thoirs was waiting to collect his medal as the 100m finals were played out on the track. Cameron Tindle, the GB U20 international, took the Men's 100m gold by three hundredths in 10.68 from his Edinburgh AC team-mate, Michael Olsen. Kade Thomas landed the bronze in 10.86.
Blackpool-based Scot Katy Wyper won a national vest in Manchester earlier this month and she took the Women's 100m gold at Grangemouth with a run of 11.63. Jenna Wrisberg of Giffnock landed the silver as VP-Glasgow's Chloe Lambert took the bronze.
After seven-in-a-row and a tenth discus win in total, Sale Harriers athlete Law insisted it's a love of the sport that keeps her competing after starting out with Inverness Harriers some 15 years ago.
'I'm pretty pleased with 54.54m today because it was my third best throw of the season and we had a very long drive north yesterday,' said Loughborough-based Kirsty.
'There were a lot of traffic delays so a five-hour journey took eight-and-a-half hours and we didn't arrive until 10pm, which isn't the best preparation for a championship. I believe that's No 10 and I'm delighted.
'I think you have to love the sport to get that kind of consistency and in fact I fell out of love of it last year for a spell and quit. I only came back in March/April time. I don't know how long I will go on but I am still chasing another PB throw, so you might be still talking to me at these when I'm 50!'
Other field event athletes to defend their 2016 titles were high jumper Nikki Manson (Giffnock North) at 1.81, Kirsty Yates (VP-Glasgow) in the shot putt at 14.00m and Greg Millar (Birchfield) in the javelin with 62.58m.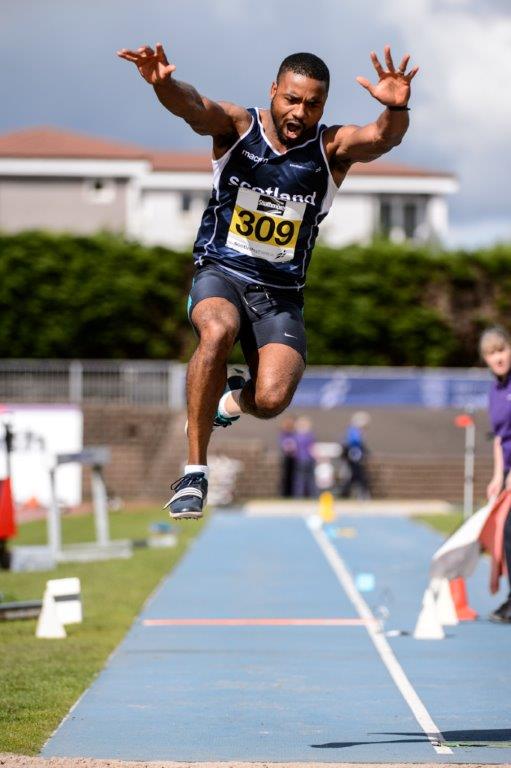 There was a fine win for Chuxx Onyia (Edinburgh AC)  in the triple jump as he went out to a PB performance of 15.63m.
'It is further than I have ever jumped and I believe it is my ninth Seniors gold, taking in both indoors and outdoor competitions,' said the Edinburgh AC athlete, who is coached by John Scott.
'I am delighted because I am still strapped up at the ankle and injury badly affected my season. I was at 15.54m indoors which was promising but then was injured and I didn't compete at the Manchester International for Scotland a couple of weeks ago because I was just coming back.
'I'm taking off well short of the board and I reckon there is maybe another 30cm there, too. I was also checking the wind readings to see if it was legal and thankfully it was 1.9! It's always good to win the Senior title and it really gives me something to build on next winter.'
Andy Frost won the men's hammer and Mike Deason took gold in the 3000m steeplechase. Annabel Simpson won the Women's 5000m gold after finishing second to U20 gold medallist, Naomi Lang.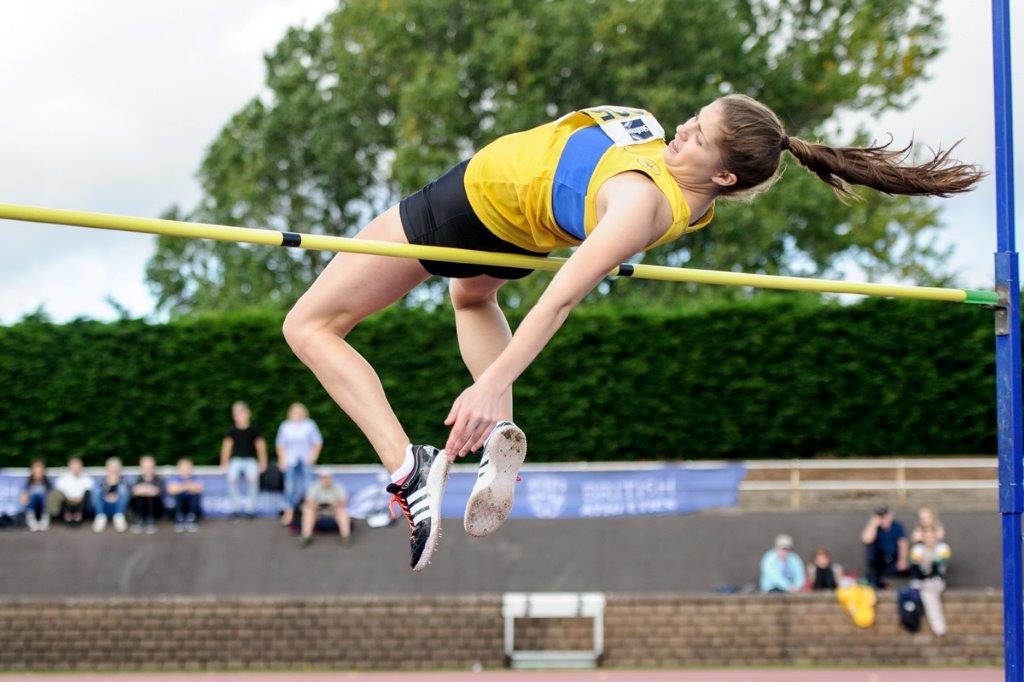 Nikki Manson retained her Women's high jump title with 1.81m.