Jake makes amends with Diamond League win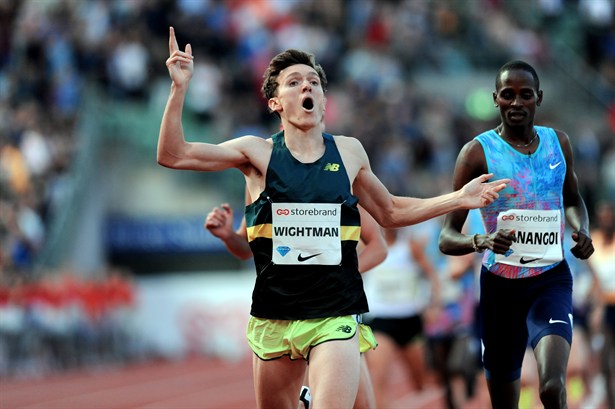 Jake Wightman celebrates his Diamond League win in Oslo earlier in the season
Report on British Athletics website (with link to Results)
Jake Wightman put his World Champs experience firmly behind him with a fine win in the Emsley Carr Mile at the Birmingham Diamond League meeting.
Wightman was one of eight Scots to feature at the Alexander Stadium on a day which saw Mo Farah win on his final track appearance in Britain.
It was a Scottish 1-2 in the mile race as Jake won a tight finish from his Edinburgh AC team-mate, Chris O'Hare, and made amends in some part for missing out on the 1500m final at London 2017.
Impressive performances from the likes of Lynsey Sharp and Eilish McColgan ensured that no fewer than six of those eight Scots came up with top five finishes – a collective performance which really should not be under-estimated at Diamond League level.
Wightman clocked 3.54.92 and became the first Scot since John Robson in 1978 to win the esteemed Emsley Carr Mile race, with O'Hare timed at 3.55.01.
'I needed to redeem myself after the Worlds, where going out in the semis was pretty gutting,' said Jake.
'With 300m to go, I could feel Chris (O'Hare) and I knew one of us was going to win.
'I knew the shape I was in before Worlds, I had the ability to get into that final and I just got it wrong. So today I really wanted to win. I thought I could do it with 300m to go and I could hear the crowd roaring, the noise is class.
'I've got Zurich on Thursday so not too much recovery time and then a mile in New York. I've learned a lot this season with my first global champs – I definitely know I need to get better to get through the first rounds so I don't make that mistake again and get all the way through in a major champ.'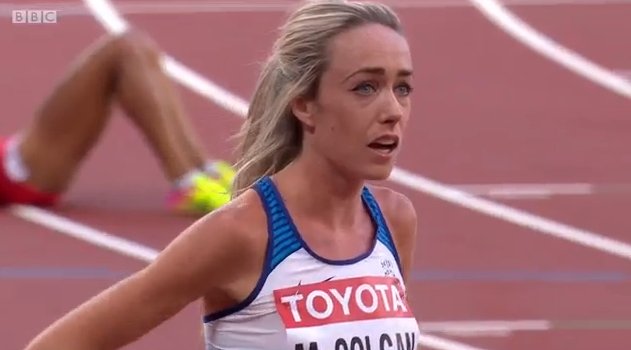 There was a strong run again from Eilish to finish fifth in a high-class 3000m race. Eilish clocked 8.31.00 to improve ever so slightly on her 8.31.39 run in Monaco shortly before the World Champs.
And it was a fourth place finish for Andy Butchart in the men's 3000m in 7.44.10 – as Farah signed off from track racing in the UK with a win at 7.38.
Sharp finished second in the Women's 800m in 1.59.67 with one of those in her wake being American Charlene Lipsey.
'It was actually quite fun to do a different type of race,' said Lynsey. 'It was a really competitive field; a few of these girls didn't make it to the world final but were good enough athletes to make it.
'We didn't go through (the bell) that fast but I just couldn't hold on in that last 50m which is a bit annoying but it was fun. It was quite evenly paced which was good for me. I'll be targeting my PB in the next races; I know I'm capable of it.'
Eilidh Doyle was fourth in the 400m hurdles with her 54.89 time almost a second quicker than in the World Champs final.
'It hard to come out a race again after World Champs but technically, it was quite similar to my race in the finalin London, 'said Eilidh.
'The racing is the fun bit but training is the difficult bit as the motivation has gone a little after a world championships. But chasing Diamond League points has been a good source of motivation and it was great to perform here in front of a home crowd.'
It was eighth for Guy Learmonth in the 800m in 1.46.28 and Zoey Clark bravely raced her first Diamond League meet despite having been caught up in the on-track incident which delayed the start of the Women's 400m. Zoey was actually struck by a heavy wire on the back of her legs just before the start and went on to finish eighth in 52.87 seconds.
Tags: Andy Butchart, Birmingham, Chris O'Hare, Diamond League, Eilidh Doyle, Eilish McColgan, Guy Learmonth, Jake Wightman, Lynsey Sharp, Zoey Clark