JHI hill trial; East Half Marathon; Robbie; Joel CE Record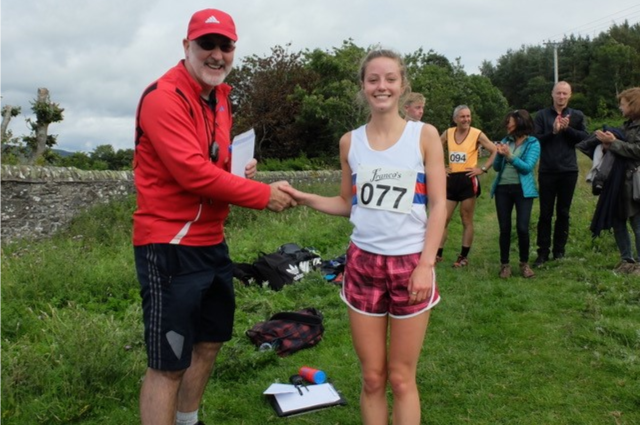 U20 Women's trial winner, Lauren Dickson of Lasswade
RESULTS 3.8k Cademuir Rollercoaster 2017
RESULTS 5.8k Cademuir Rollercoaster 2017
RESULTS 8k Cademuir Rollercoaster 2017
The Scotland Trial races for hill running's Junior Home International were incorporated in the Cademuir Rollercoaster hill races near Peebles on Saturday with the first two finishers in each age category being certain of being offered selection for Scotland.
The International will be held on the same courses on Saturday 16 September with two additional athletes selected to make up each team of four for U17W, U17M, U20W and U20M.
The U17W trial was over 3.8km with a climb of 176m and first home in that age-group was Lynn McKenna (Giffnock North) in a time 18.10. She was followed home by twin sister Charlotte in 19.13. Cliona McCheyne (Inverclyde) was third in 19.27.
But hats off to first-year U15 Anna Hedley (Fife AC) who romped home ahead of them all in 16.54. Anna was third overall in the race, only beaten home by two U15 boys, James Connelly (Garscube) who gained two places on the final descent to take the win, and Ben Cameron who had made the long journey south from Forres.
The 5.8k/321m race incorporated both the U20W and U17M trial races. First overall and U17M trial winner was Robert Sparks (Fife AC) in 27.58. Elliot Duff (Garscube) took second in 28.18 with Yousuf Khursheed (Gala) third in 28.54.
Next to finish in this race in fourth overall in 29.24 was the U20W trial winner Lauren Dickson (Lasswade) in what was just her second-ever hill race.
Anisha Badial (Aberdeen) took the U20W runners-up spot in 32.23 with the host club's Mairi Wallace (Moorfoot) third in 35.33.
The final race of the day incorporated the U20M trial and took in the steep climb to the Cademuir summit twice for 8k/433m.
Gavin Bryson (EAC) was a convincing winner in 36.07, clubmate Freddie Carcas chasing him home in 37.09. Third home in the U20M category was Faisal Khursheed (Gala) in 39.23.
While the Scotland selectors ponder their team selections, it should be noted that the Junior Home International races over the same courses in Peebles on 16 September incorporate the U17 and U20 British and Irish Championship races which are open entry for each age-group and can be entered on the day. (Age qualification is age as at 31 December 2017.)
Further information and courses online on Facebook
+++
Edinburgh AC's Neil Renault, with a time of 70.29, won his first East Road Championship when winning the East District Half Marathon, which was incorporated in the Haddington Half Marathon on Saturday.
Second place went to GB Paralympian Derek Rae (Fife AC) with third to Leon Johnston (Edinburgh AC), who also won first Masters medal.
Fanni Gyurko (Central AC), with 81.41 won the Ladies Championship with Chloe Cox (Lothian RC) second and Jill Mykura (Carnethy HRC) third. Jill also took the first Women Masters medal.
Results on Haddington club website
+++
Robbie Simpson missed the World Champs marathon through injury but he has been able to compete in uphill races and came up with a fine performance at the weekend.
The Scot came up with second place in the Sierre Zinal 31K race as he recovers decent fitness.
+++
There were some good Scottish Combined Events performances once again over the weekend – at the England Athletics U15/U17 Champs.
Taking top billing must be Joel McFarlane who scored 6594 points to set a new England Athletics Championship Record at U17 level.
It was a Scottish 1-2-3 in this age group in the indoor event and this time they went close to repeating that with a 1-2-4 as Matt Chandler took the silver medal. Robbie Farquhar was fourth.
There was a strong Scottish entry across the two age groups with the Manchester venue more accessible than Bedford, which has staged this event in recent years.
Tags: East Half Marathon, hill running, JHI Trial, Robbie Simpson