World 24-Hours; Murphy CE; Trio for Mannheim
Belfast is the place to be for the ultra running community this weekend – as the IAU World 24-Hour Championships head for Northern Ireland.
And four Scots are set to race as a strong contingent in a 10-strong team for GB and NI.
The World 24-Hour Champs will see husband and wife duo Marco Consani and Debbie Martin-Consani each take a place on the team, with James Stewart and Sharon Law making up the quartet – a well-earned first GB vest for James of VP-Glasgow.
The contest brings a third GB vest for Marco of Garscube Harriers. He ran 250.263 km when placing 8th at the European Championship in Albi, France in October 2016, helping GB to team silver medals. Has a 24 hour PB of 256.531km, set in Barcelona in 2014, which is currently 3rd on the all-time Scottish 24 hr rankings.
'It is a very solid British team, and it's good to see four home-based Scots in there,' said Marco.
'The standard at the World Championships is always high, but both men's and women's teams have a history of achieving team medals. Without being complacent, it will be hard work as always, but  I hope we can get among the medals again.
"It is a big boost for ultra running, to have the event as a UK fixture. We hope the Scottish and British ultra community will take the opportunity to get behind the team.'
The two female Scots on the team will both be winning their 5th GB vests – Sharon (North Ayrshire) has a 24hr best of 226.107km, set in the World Champs in Steenburgen Holland in 2013. Debbie (Garscube) finished as top Briton in 2015, finishing 12th. She has a 24hr PB of 221.714 km, set in the world champs in 2014 where she finished 8th.
+++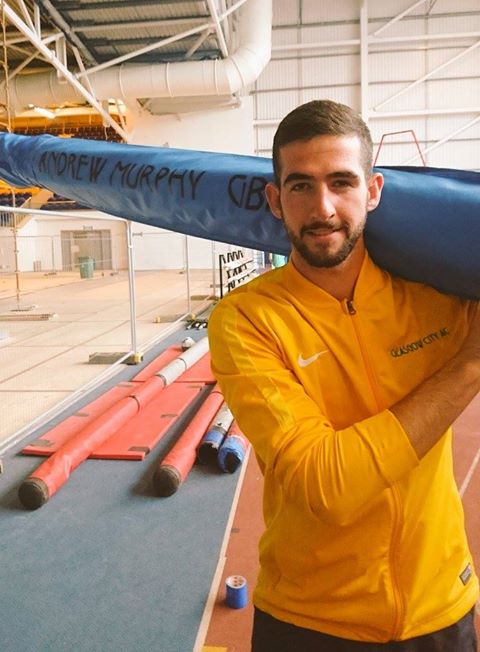 British Athletics selection story
Decathlete Andrew Murphy heads for Estonia this weekend as he wins a GB and NI vest at Senior level after being called up for the Combined Events European Team Champs.
It is a reward for strong performances in recent months by the Kilbarchan AAC athlete, culminating in a bronze medal at the England Athletics Champs in Bedford at the end of May.
Andrew recorded a new points tally PB of 7170 that weekend and his selection by British Athletics comes more than five years after first being picked to compete for GB at U20 level in a Combined Event Match in Cardiff in March 2012.
'I was delighted to be selected and I'm really looking forward to the event in Tallinn in Estonia,' said Andrew.
'I won that GB vest back in 2012 but there's been nothing else in that sense for these past five years. It was exciting back then to compete at that level and it will be to do so again.'
+++
*Cameron Tindle joins Alisha Rees and George Evans in a small GB and NI team for the Mannheim international in Germany this weekend.
That gives the Scottish sprinter another opportunity to seek the qualifying standard at 200m for the Euro U20s and bid for selection for the relay.
Alisha competes in the 200m and George in the discus for the 20-strong selection by British Athletics.
British Athletics website announcement for Euro U20s and Mannheim
Tags: Alisha Rees, Andrew Murphy, Cameron Tindle, Debbie Martin-Consani, George Evans, James Stewart, Marco Consani, Sharon Law, World 24-Hours