Boston; Bennett; Waite; Sprinters; Women's 10K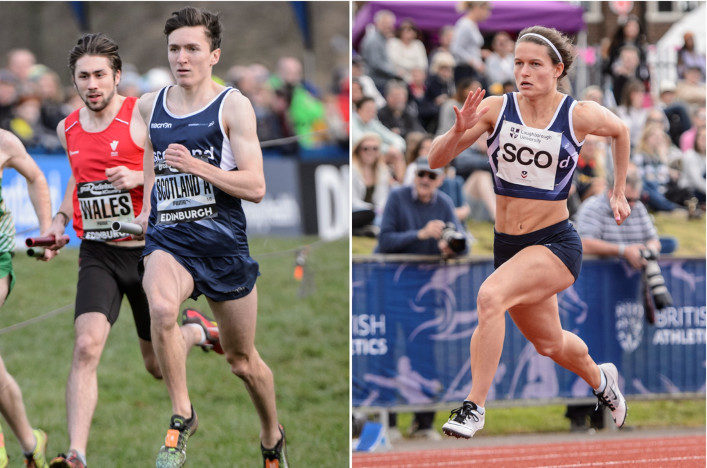 Jake Wightman and Zoey Clark – two of a number of top performers this weekend
It looked at the outset as an 'ordinary' weekend with no domestic championships (other than the 3000m U20/U17) and no major championship event south of the border.
Yet, once again, Scottish athletes came up with a series of performances which might well merit the extraordinary description, given the impact on all-time lists.
From hammer to heptathlon to sprints to endurance to steeplechase to hill running, athletes 'smashed it' all over the globe.
We will cover British title wins for Andy Douglas and Anna Macfadyen in hill running and Holly McArthur's latest heptathlon U20 National Record in other stories, but there were still many reasons to be cheerful at event sin locations from the United States to Germany to England.
Jake Wightman set the ball rolling at the Adidas Meet in Boston to clock a 1.46.07 PB for 800m that led British rankings at that distance until a good run by Andrew Osagie later in the weekend. The World Champs qualifying time for British Athletics is 1.45.90.
And there was a 1500m win for Chris O'Hare in the same meet and Lynsey Sharp was fourth in the 800m with a SB of 2.01.13.
+++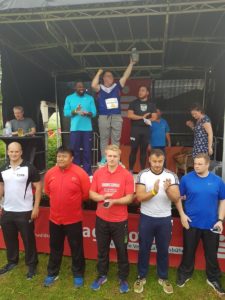 Chris Bennett has enjoyed the Hammerwurf meeting in Germany for the past couple of years and 2017 was no different – as he made it a hat-trick of wins in Frankish.
One comment on Twitter described it as the best victory of Bennett's career as he threw a Season Best 75.72m (less than 1m off his PB) to take the title amid competition from Europe and Britain.
Fellow Scot Mark Dry finished in eighth place with a best throw of 70.26m while, unfortunately, Rachel Hunter recorded no distance.
+++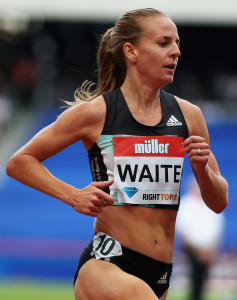 Lennie Waite clocked 6.21.31 for the 2K Steeplechase and that is a British best performance for the rarely-run event.
It was a very solid return to form for the Rio Olympian who is looking for the World Champs standard of 9.42. The Gold Coast standard for Team Scotland is 9.50.
Lennie tweeted later: 'Sometimes the simple races are the best races. Got back on race pace with a 2k Steeplechase on my home track in a British best of 6:21'
*Beth Potter took a third place finish in her first triathlon event at Blenheim Palace. Beth was 41st after the swim but recovered to come home two minutes behind winner Sophie Coldwell.
+++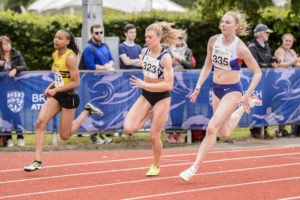 Alisha Rees (in GB vest) in action at the Loughborough International
There were some fine sprints performances when Edinburgh AC finished third in the UK Women's League match at Eton at the weekend.
Zoey Clark was prominent with PB performances in both the 400m and the 200m. Zoey clocked 52.33 in the one-lap race to get within three hundredths of the Gold Coast qualifying standard. Her 200m time of 23.14 was deemed windy – and she also contributed a superb leg in the 4 x 400m relay event.
Alisha Rees clocked 23.12 (windy) for her 200m best time and both those windy performances are high on the Scottish all-time list for 200m (when taking in windy times).
Elsewhere, Jack Lawrie was in British Men's League action and recorded PBS in the 400m Hurdles at 50.55 and the 400m in 47.92.
+++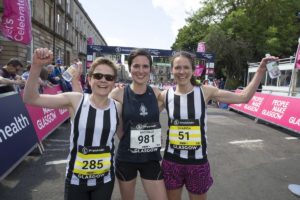 Michelle Sandison of Springburn Harriers took the win at the Simplyhealth Great Women's run in Glasgow on Sunday.
Michelle clocked 37.34 and she was followed home by two Inverclyde AC athletes as Sharon Muir took second in 38.18 and Julie Gordon was third in 40.47.
Tags: Alisha Rees, Chris Bennett, Chris O'Hare, Great Women's 10K, Jack Lawrie, Jake Wightman, Lennie Waite, Lynsey Sharp, Michelle Sandison, Zoey Clark