Lemoncello claims Stirling Marathon win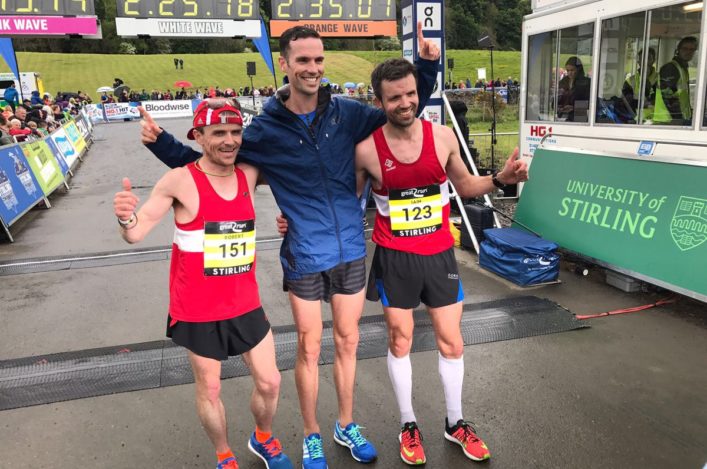 Andrew Lemoncello came home to run as thousands took on a range of distances as part of the historic first-ever Stirling Scottish Marathon.
A total of 6,500 runners signed up to the 26.2mile event, taking on a route from Blair Drummond Safari Park, through Doune, Dunblane, Bridge of Allan and the University of Stirling and into the city centre where they finished beneath the iconic Stirling Castle.
At the same time, 500 runners took part in the Great Stirling 5K, taking in a city centre loop which started and finished in City Park while, on Saturday, hundreds of children and their parents tackled the Thistles Great Stirling Family Run on the picturesque campus at the University of Stirling.
The winner of the inaugural marathon was Lemoncello, who returned to Stirling from his base in America to compete in the city where he spent time as a student at the university.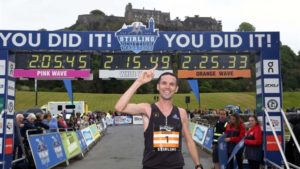 Lemoncello, who finished in a time of 2.25.01 with Cambuslang Harriers duo,  Iain Reid and Robert Gilroy second and third in 2.29.44 and 2.34.17 respectively, said: 'It feels great to be the first winner of the Stirling Scottish Marathon.
'This is where I went to university, I wasn't sure where I was with some of the course but as soon as I got back on the road, I remembered it all. Seeing the crowds really spurred me on to finish.
'It was so much fun out there and to finish with the crowds cheering was a great thing. I'd recommend this to anyone, it was a great course and I'll be back next year. You would be hard-pressed to find a more beautiful marathon route.'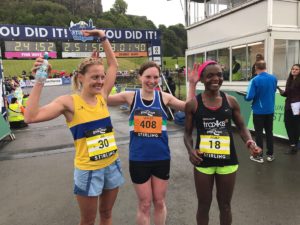 Lesley Pirie was the inaugural female winner of the event in 2.47.36, with Jill Smylie in second, clocking 2.57.04 while Juliet Champion was third in 2.58.36.
Running legends Liz McColgan and Zola Budd took part in the marathon, with Zola over the line first in 3.12.24, finishing as ninth female, and Liz not far behind in 3.18.33.
Double Commonwealth gold medal winner McColgan said:  'It was really enjoyable in a funny sort of way. I was really pleased to run round and not have any problems, I was really comfortable.
'My legs stood up to the distance, so I'm just pleased to have finished. I've had a lot of problems since I retired so I never thought I'd be able to run a marathon again, so I'm chuffed.'
The Stirling Scottish Marathon was organised by the Great Run Company in partnership with Stirling Council, and group CEO Mark Hollinshead said: 'We're delighted with the first-ever Stirling Scottish Marathon.
'We can safely say it's the only marathon in the world that starts in a safari park and finishes beneath a castle, so our participants enjoyed a truly unique experience in a historic setting.
'It was fantastic to see Stirling as a city embracing this event and the spectators turning out in force – we can't wait to be back next year.'
Tags: Andrew Lemonello, GreatRun, Lesley Pirie, Liz McColgan, Stirling Scottish Marathon, Zola Budd