Butchart; Junior Hill Champs; Gala 10K; Men's League; EAC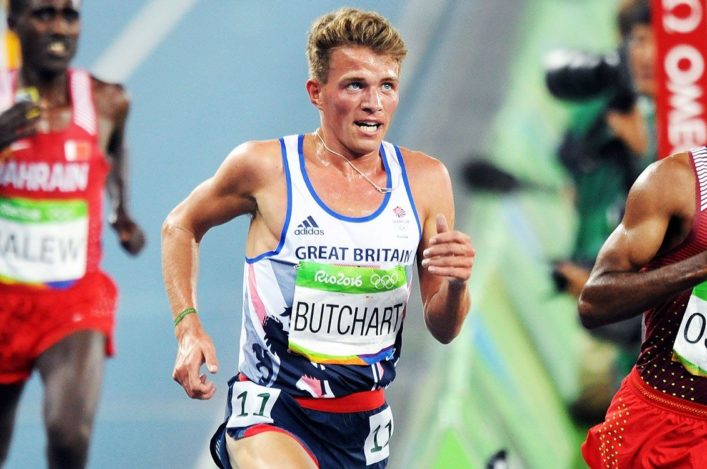 Andy Butchart kick-started what could be a very exciting 2017 track and field season for Scotland's elite athletes with a fine run in Doha.
The Olympian finished in eighth place in the Diamond League opening night 3000m – as he clocked 7.45.36.
That was just 36 hundredths outside his own Scottish National Record, set last June at the Diamond League in Birmingham when he ran 7.45.00. Butchart has run the distance faster indoors, however, with a superb run in America early in 2017.
'The rust definitely got busted… 7:45 and 8th @dldoha time to go back to Flagstaff #TheSeasonHasBegun #TeamNB,' tweeted New Balance athlete Butchart afterwards.
Chris O'Hare's performance was probably the pick of four athletes involved in the Payton Jordan Invitational event in California. Chris recorded 3.39.05 and that's inside the standard being asked for Gold Coast 2018 qualification.
Eilish McColgan wasn't satisfied with her 15.22.12 run at 5000m while Josephine Moultrie recorded 16.14.76 at the same distance. Callum Hawkins stepped onto the track for a high level 10,000m race for the first time in a couple of years but later stepped off with a slight hamstring issue the reason behind his DNF.
+++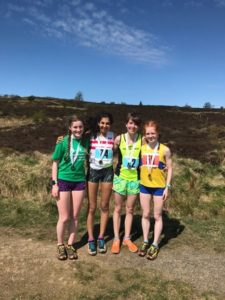 RESULTS Scottish Junior Hill Champs
The Scottish Junior Hill Champs were hosted by Fife AC at the Lomonds of Fife Hill Races on Saturday in fine conditions.
It was the sixth year junior races had been held over this course and the event drew over 60 athletes from a dozen clubs from across the country. The East Lomond courses are challenging by design, with steep ascents and descents combined with some smoother sections of land-rover track.
With Scotland selectors in attendance, competition was of very high quality and three course records fell on the day – Anna Hedley (Fife AC) in the U15F, Ben Cameron (Forres Harriers) in the U15M and George Rees (Fife AC) in the U20M.
Other gold medallists were Robert Sparks (Fife AC) and Lynn McKenna (Giffnock North) in the U17s, and Anisha Badial (Aberdeen) in the U20s.
Host club Fife AC maximised home advantage in the preliminary U13 race, with a clean sweep in boys and girls 1-2-3, led by Marti Pennachio and Isla Hedley respectively.
With thanks to volunteers from Fife AC and Anster Haddies, and all best wishes for a speedy return to form to Charlotte McKenna after an awkward fall.
With thanks to Roger Rees and Malcolm Paterson
+++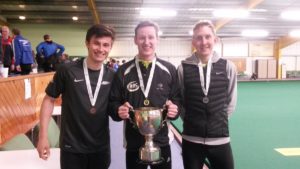 Gala Harriers staged their annual 10K event on Sunday and the race doubled up as the East District Road Champs for the distance.
Corstorphine AAC's Calum McKenzie took the Men's title with 31.27 winning by 45 seconds from club-mate, Dougie Selman (32.12). There was a bronze medal, and U20 gold, for Gavin Bryson of Edinburgh AC with 32.35.
Host club Gala went 1-2 in the Women's race thanks to Kirstin Maxwell (38.54) and Sara Green (39.30) with third place for Edinburgh AC's Susan Ridley (41.49. There were Masters golds for Ridley and Michael Fullerton of EAC.
All the Results are on the Gala Harriers website. Thanks to them for hosting the East District 10K Champs.
+++
Aberdeen AAC hosted the first of the four 2017 Scottish Men's League fixtures on Saturday.
In Division One, there was an opening weekend win for the host club with 417 points from second-placed Inverness Harriers (310) and Central AC (284).
In Division Two, Shettleston Harriers took the victory with 314 points to win from Inverclyde AC (236) and Edinburgh AC (210).
Results summary is on the scotstats.net website
*Edinburgh AC had an excellent start to their 2017 campaign with a second place finish behind Thames Valley Harriers in the UK Women's Athletic League.
Despite the cold and blustery conditions there were PBs for Beth Dobbin of 11.89 in the 100 and 23.88 in the 200 and a new PB of 9.35.83 from Steph Pennycook in the 3000 metres. Alisha Rees dipped under qualifying times for the European Junior Championships in both 100 and 200 with 11.69 and 23. 88, winning both A string events.
Emma Nuttall and Susan McKelvie had strong performances of 1.75 and 62.07 on their way to victories in the high jump and hammer while there was a win for Lauren Stoddart in the steeplechase.
Tags: Andy Butchart, Callum Hawkins, Calum McKenzie, Chris O'Hare, East District 10K Champs, Eilish McColgan, Fife AC, Gala Harriers, Josephine Moultrie, Kirstin Maxwell, Scottish Junior Hill Champs