Great day in the Callendar . . .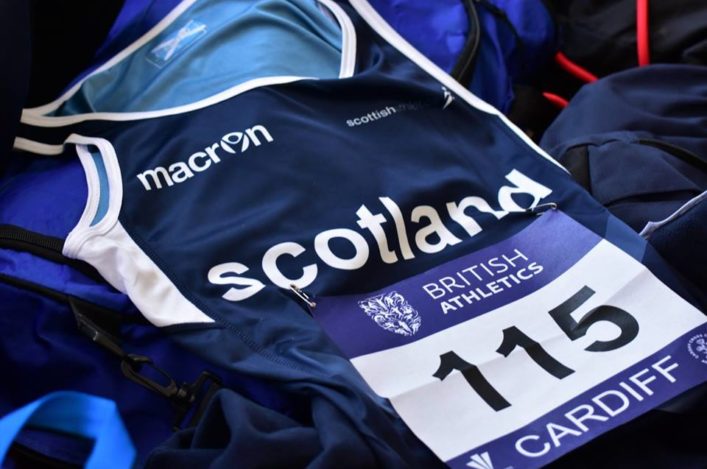 Follow the event on Twitter #LindsaysXC
The chance to represent Scotland is up for grabs at Falkirk across various age group levels.
In fact, across every race with the exception of U13s and at Masters level, there is an opportunity there to earn selection for either the Home Countries XC International in Wales or land a road running opportunity in the Mini Marathon in London.
Effectively, that means up to 40 Scotland vests up on offer at Callendar Park with the Lindsays National XC the 'trial races' for these two events.
Scotland will compete in the Home Countries International in Wales on March 25. Senior and U20 vests will be awarded for Home Countries event with four-strong teams for men and women.
The first three athletes in the Senior and U20 races on Saturday will be offered places as per the Road Running and Cross Country Commission selection policy document for 2016-17.
'Home Countries International: Up to 4 Senior Men; 4 Senior Women; 4 U20 men; 4 U20 women, (U20 based on UK rules). First 3 eligible athletes from the National Championships will be offered selection.'
The London Mini Marathon teams will be picked early next week at U15 and U17 level – with Saturday's performances firmly to the fore for selectors.
Scotland sends teams of six, both male and female, at U15 and U17 for this event – in London in April – so there are 24 places available. Those who finish high in the U15 and U17 National XC races will be in pole position for selection.
'London Mini Marathon: The Scottish team each age group (U15 & U17) will be selected, based on current form, but particularly performances in the scottishathletics Indoor 3000m Championships (late Dec 2016) and the National XC (25 Feb 2017). Age groupings for this race are U15 dob 1/9/02 to 31/8/03 and U17 dob 1/9/99 to 31/8/01.'
+++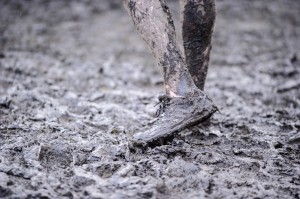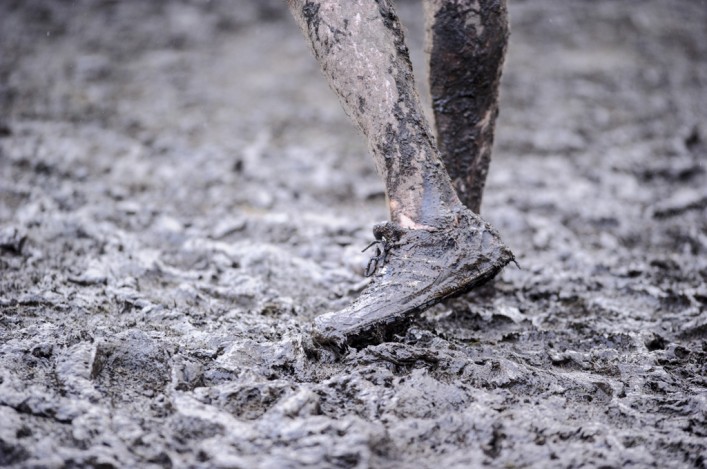 The Inter-Counties take place as the British Athletics Cross Challenge concludes in Loughborough on Saturday 11 March.
Scottish districts send teams to this event and the National XC counts towards this in terms of selection, also. Here is the relevant section from the RR and CC selection policy document:
'Inter Counties: District teams (of 32 approximately) will be selected, consisting of up to 9 Males and Females at Senior level, up to 6 Males and Females at U20 and U17 levels.
'Teams will be selected with consideration given to their medal potential. U15 athletes may be selected by districts if they show exceptional form and funding is available. Other U15 and U13 athletes can participate (if they meet the qualifying standards), but will not receive funding for travel or accommodation.'
+++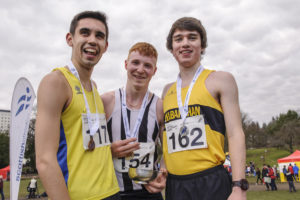 Men's U20 medallists last year
Ron Morrison has carried out a great piece of research work on the Road Running and Cross Country Commission website.
Now added to the National XC section are 'Team tables' and 'Team analysis' icons which take you to a list of all the team medallists in each age group down the decades.
For example, did you know that Shettleston Harriers lead the Senior Men's table with 19 wins? And Glasgow AC won the Women's race 17 times.
Central AC have six Men's wins to their name, over the past six years, and look favourites to retain the golds they won last year.
Check out the new icons on the page on the Archive section.
*Many thanks to Ron for adding yet more detail to what was already a comprehensive archive.
+++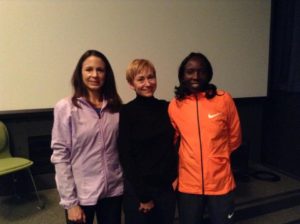 Lynne Macdougall will race for Garscube
There will be familiar faces around the course all day on Saturday.
Look out for Paralympian Derek Rae as he prepares for the London Marathon and 1984 Olympian, Lynne Macdougall, who is wearing the colours of Garscube Harriers.
Jamie Williamson, son of Scottish running legend Graham, is entered in the U20 race and then there's our Chairman, Ian Beattie, set to take on the Men's race for the 22nd time.
Every single one, no doubt, will be taking it seriously – just like Masters at Kirkintilloch Olympians, who recently went warm weather training in Portugal, to prepare for Falkirk. We wish them all well!
+++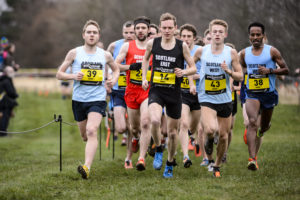 Inter-Districts action from Edinburgh
The Scottish Cross Country Grand Prix continues at Falkirk on Saturday – with four rounds completed.
The Lindsays National XC is the fifth event, with the Inter-Counties at Loughborough completing the series.
Kristian Jones and Morag MacLarty won the Inter-District titles and now lead the respective Men's and Women's Points tables.
Jones is on 136 points and is followed by Tewolde Mengisteab on 119 and Andy Douglas on 116. Jamie Crowe and Lachlan Oates make up the top five. MacLarty leads with 172 followed by Nicola Hood on 126 and Steph Pennycook on 106. Jenn Wetton and Rachael Dunn complete the top five.
Tags: British Cross Challenge Series, Cross Country GP, Home Countries International XC, Ian Beattie, Inter-Districts XC, Kris Jones, Lynne MacDougall, Morag MacLarty, Road Running and Cross Country Commission, Scotland vests