Full Team Scotland named for Glasgow 2014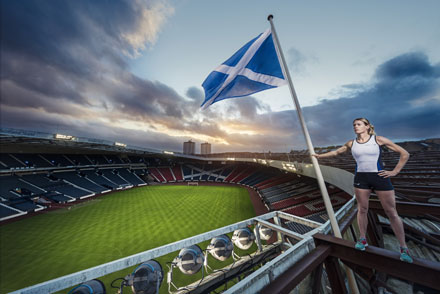 scottishathletics and Commonwealth Games Scotland can today reveal the full list of those who will represent Scotland at Glasgow 2014.
A total of 58 athletes have now been confirmed for Commonwealth Games competition in track, field and marathon.
It is a remarkable tally – and is just over three times as many as the 19-strong party who travelled to India for Delhi 2010.
With 27 athletes named in two previous selection phases, a further 32 were added following the close of the qualifying period last Sunday evening.
Every endurance event is covered with at least one male or female athlete while in the throws events there are 12 athletes picked; there are also five in high jump and three in pole vault.
scottishathletics would like to formally, and firmly, congratulate each and every one of the athletes selected for Glasgow 2014 and their families, coaches, clubs and all involved in their development.
We know how much it will mean but also the long years of hard work that have been put in by so many people across the sport.
Jake Wightman for 1500m and Myra Perkins in women's hammer won places in events where more than three athletes had each achieved the required two standards or more.
Joasia Zakrzewski has replaced the injured Freya Ross in the marathon, after also achieving the standard required by Scottish women.
'I want to personally congratulate all those selected and I'm sure those good wishes comes from everyone at scottishathletics and indeed all those associated with athletics in Scotland,' said chief executive Nigel Holl.
'It is a large team and one we feel can represent Scotland in the right way at Hampden and in the marathon.
'Perform on the day,' is a key message from us and that's what the performance team and individual coaches will be working on now with each and every one of these athletes.
'The Games itself are the next 'learning experience' for many of those athletes, and we should expect many to perform when it counts, and some to learn that is a skill they still need to hone.
'The athletics team in Delhi was 19 athletes. Two of those athletes were relay runners who had not achieved the Delhi qualification standards.
'Of the 58 athletes selected for the Glasgow Games, 39 athletes have achieved the same Delhi standards on at least one occasion (the standards were adjusted after Delhi – as they are after every Games – using statistics across the last three Games as the basis).
'If there is one figure that shows both the impact and inspiration of home Games, and also looks optimistically forward to the future, it is that – more than double the number of athletes achieving the same standards only four years later.'
To view today's official Team Scotland announcement, CLICK HERE.
TEAM SCOTLAND for GLASGOW 2014
MEN Track: Guy Learmonth 800m, 4 x 400m; Chris O'Hare 1500m; David Bishop 1500m; Jake Wightman 1500m; Callum Hawkins 10,000m; Andrew Lemoncello 10,000m; Stephen Lisgo 3000m s/c; Luke Caldwell 5000m (10,000m). Scotland Men 4 x 400m: Kris Robertson, Jamie Bowie, Greg Louden, Grant Plenderleith
Marathon: Derek Hawkins, Ross Houston
Field: Allan Smith, high jump; David Smith, high jump; Ray Bobrownicki, high jump; Jax Thoirs, pole vault; Gregor MacLean, pole vault; Nick Percy, discus; Angus McInroy, discus; Mark Dry, hammer; Chris Bennett, hammer; Andy Frost, hammer; James Campbell, javelin.
Para: Lewis Clow, T37 100m; Jason Maclean T37 100m.
WOMEN
Track: Eilidh Child, 400mH 4 x 400m; Laura Muir, 1500m (800m); Emily Dudgeon, 800m; Lynsey Sharp, 800m 4 x 400m; Eilish McColgan 3000, s/c; Lennie Waite, 3000m s/c; Steph Twell 5000m; Laura Whittle, 5000m; Beth Potter 10,000m (5000m)
Scotland Women 4 x 400m: Gemma Nicol, Diane Ramsay, Zoey Clark, Kirsten McAslan
Field: Jayne Nisbet, high jump; Emma Nuttall, high jump; Rachael Mackenzie, high jump; Jade Nimmo, long jump; Sarah Warnock, long jump; Susan McKelvie, hammer; Rachel Hunter, hammer; Myra Perkins, hammer; Kirsty Law, discus; Kirsty Yates, shot put; Alison Rodger, shot put; Henrietta Paxton, pole vault.
Marathon: Susan Partridge, Hayley Haining, Joasia Zakrzewski
Para: Libby Clegg (Mikail Huggins) T12 100m; Meggan Dawson Farrell, Samantha Kinghorn T53/54 1500m.
Tags: Commonwealth Games, Glasgow 2014, Hampden, Team Scotland