UKA Athletics Coach
The Athletics Coach qualification is the cornerstone of the coach qualification pathway. The programme has been designed to support coaches in working with athletes in the Foundation to Event Group Development Stage (typically under 18's) and advocates a multi-event approach in the development of athletes.
Coaches who opt for this pathway will be expected to develop their technical knowledge and expertise across a range of events in relation to run, jump and throw activities. Developing expertise across a range of events will be advantageous to the development of all athletes as well as supporting your progress along the Coach Development Pathway.
Athletics Coach Qualification Process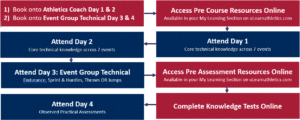 At the end of the process, candidates will be able to plan a progressive training programme for athletes coaching a range of activities to prepare the developing athlete to run, hurdle, jump and throw. When qualified you will be insured to coach without supervision.
In total the course consists of four contact days, which concludes with a practical assessment. Days one & two of the course will cover the generic content of running, hurdling, jumping, throwing and the physical preparation of the athlete:
Topics include:
Physical Preparation
Running for Speed
Running over Obstacles
Running for Endurance
Jumping for Distance
Jumping for Height
Push Throw
Pull Throw
Coaching Process
Once you have secured your place on your Athletics Coach days one & two, candidates will be sent a booking confirmation and be asked to select their Technical Event Group day three option. Please note there needs to be a minimum of four weeks between your day two & three as there is homework and coaching practice required.
Day three options are:
Athletics Coach Endurance – including Walks, Steeplechase, Middle Distance and Wheelchair Racing
Athletics Coach Jumps – including all four Jumps (Long, Triple, High and Pole Vault)
Athletics Coach Speed – including Starts, Acceleration, Maximum Velocity, Hurdles, Relay and Wheelchair racing
Athletics Coach Throws – including all Throws (Shot, Discus, Javelin, Hammer and Seated Throw)
When booking your Event Group option, you will secure your place on your Observed Practical Assessment (day four).
 How will the Qualification be delivered?

Throughout this programme individuals will be required to work in conjunction with a Support Coach. This role is vital in each candidate's individual success on the programme.
If a candidate's club is unable to provide a Support Coach they should contact scottishathletics Coaching Co-ordinator who will be able to signpost them to appropriate Support Coaches in their area.
Prerequisite: Level 1 Assistant Coach or Coaching Assistant
Minimum age: 18
Cost: £425 / £170*
*Coaching Subsidy
Through our funding partner, sportscotland, there is a coaching subsidy of 60% of the course fee available for those applying for CiRF or Athletics Coach. To be eligible to receive the coaching subsidy, coaches must meet the following at the time of booking:
Agree to coach through sport in the community (i.e. clubs, local programmes, schools, community, or performance sport) within six months of applying for the subsidy.
Agree to coach on average once per week, or a minimum of 24 times per year.
Agree to become a scottishathletics coach member at the time of booking, if not already a member.
Agree to continue to develop as a coach through ongoing communications with a support coach and attend coach development opportunities as and when appropriate.
Agree to work with named support coach in the development as a coach.
Provide a statement, why this course will benefit you as a coach, and what impact will this have on the club/school/community.