Cash4Clubs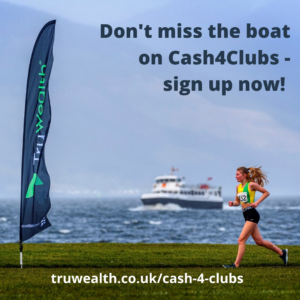 Following the recent announcement of our new 2-year sponsorship agreement with Tru Wealth, scottishathletics are delighted to be able to share with you more information on the Cash4Clubs initiative offered by Tru Wealth.
Cash4Clubs is a funding scheme giving athletics clubs and groups the chance to earn cash back for their clubs to improve facilities, purchase new equipment, gain coaching qualifications, and invest in the sustainability of the club. The scheme works on a referral basis and more information can be found in the welcome pack, which you can download below.
Graham McKnight, managing director of Tru Wealth, said: "We are delighted to formalise our sponsorship and continue to demonstrate our commitment to scottishathletics by adding the road race series, this is in addition to our support of track and field via clubs and individual athletes.
"We are also excited to explore other avenues of supporting scottishathletics clubs by launching a 'Cash for Clubs' initiative, giving members that use our services an opportunity to earn cash back for their local club.
"As official partners, we are pleased to be able to offer mortgage and financial planning advice to scottishathletics members and welcome any members to get in touch if they'd like to discuss this further."
We would encourage clubs to make contact directly with Tru Wealth using the contact details on the final page of the welcome pack to discuss further how you can make Cash4Clubs work for your club.
We'd like to thank Tru Wealth for setting up this initiative and we look forward to working with them and our member clubs to continue developing our club support.
For full details visit the TruWealth Cash4Clubs page.
Downloads