2021 Intake – Revised Consideration Standards
We appreciate that the restrictions in place throughout 2020 had an impact on many athletes ability to access regular training and appropriate competition opportunities.  This in turn limiting the chance to achieve the relevant consideration standards for the 4J Studios National Athletics Academy.
With this in mind, modified consideration standards have been produced for those athletes who were second year U17 in 2019/2020 and are competing in their first year as an U20 in 2021.
(athletes born between 1st Sept 2003 and 31st Aug 2004).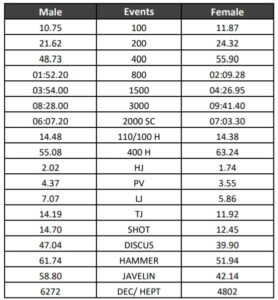 NOTE: For those athletes who are U17 for the 2021 track and field season, the consideration standards remain the U17 Power of 10 UK 10 targets