Chris retires after superb career with European medals and Scottish Records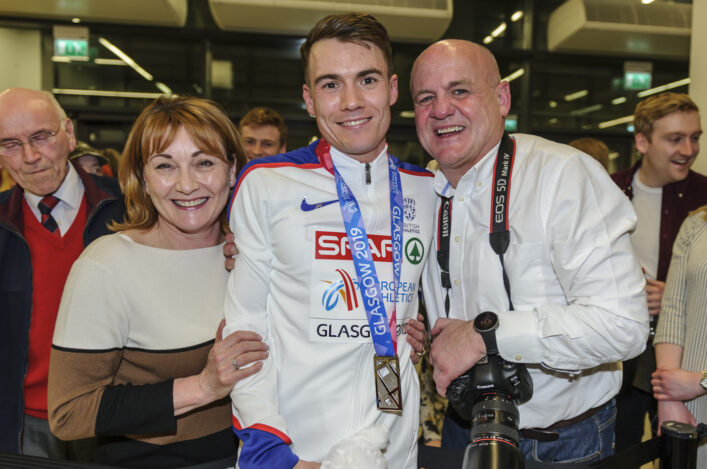 Family moment as Chris celebrates silver at Glasgow 2019 European Indoors with his parents Gillian and Terry (photo by Bobby Gavin)
Chris O'Hare has announced his retirement as a professional athlete.
The top Scot, who has been based in the United States now for a number of years, made his announcement on social media 14 months after a hip injury which required surgery.
Chris has been a superb ambassador for athletics in Scotland from his early years coming through the ranks at Edinburgh AC to representing Scotland at two Commonwealth Games and GB and NI on a number of occasions. He was a 2016 Olympian in Rio.
The 31-year-old savoured significant medal success at British level and the highlights would be three European Championship medals.
One simple stat sums up best his quality and consistency – Chris clocked a sub four minute mile on no fewer than 25 occasions (eight times more than any other Scot).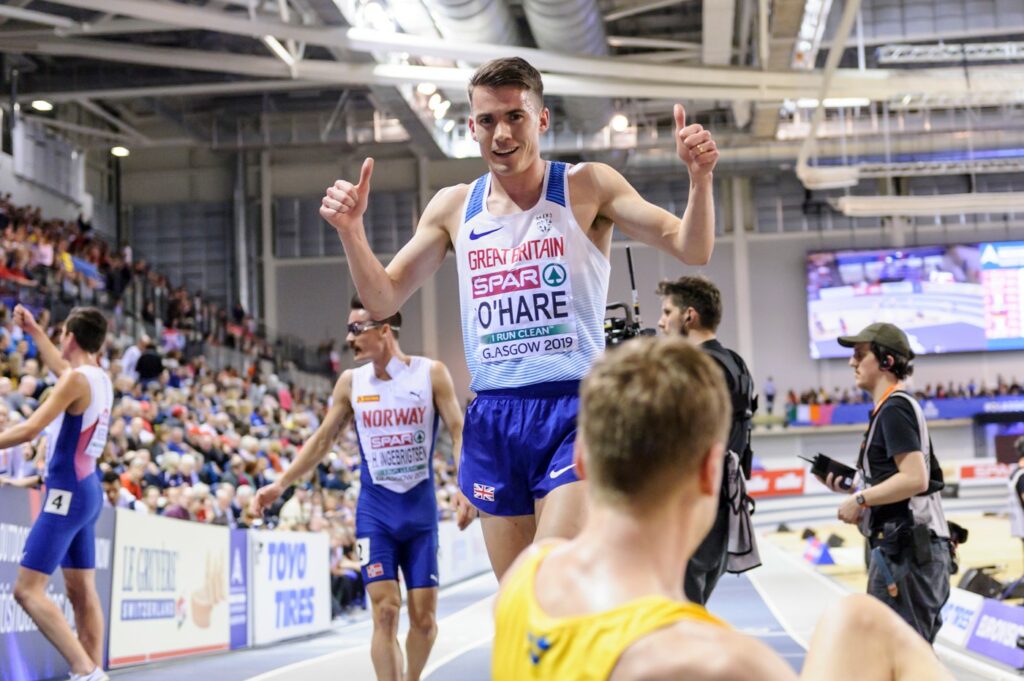 Chris celebrates silver at the European Indoors at Glasgow 2019 (photo by Bobby Gavin)
Chris won bronze in the 1500m in Zurich at the 2014 Euro Champs and then bronze again a few months later at the 2015 European Indoors in Prague.
But arguably the crowning glory was a superb run for 3000m silver at the Glasgow 2019 European Indoors in front of a home crowd in Glasgow – clinched with a typically strong run and full-on finish as he plunged across the line.
Chris was also very much in the vanguard as our elite athletes began to reach greater heights – coming through with the likes of Eilidh Doyle, Lynsey Sharp and Eilish McColgan.
And he played a very big part in improving the Scottish Record at 1500m, effectively trail-blazing for Jake Wightman and then Josh Kerr. He still holds the Indoor Men's Mile Record at 3:52.91.
Happily settled in the States with his wife Meredith and three children, Chris said in a statement:
'Retiring is never an easy decision for an athlete to make but I am relieved to say that although I will miss everything about training and racing, I am happy to be a retired athlete,' he said.
'Huge thank you to all those who have supported me throughout my career.'
All at scottishathletics and across athletics in Scotland send our warm thoughts and best wishes to Chris and his family with thanks for a huge contribution over two decades.
Chris was British champion in Birmingham en route to London 2017 World Champs (photo by Chris Lee – British Athletics/Getty Images)
'Running has blessed me with so many opportunities and so many wonderful lifelong friendships,' added Chris.
'I wouldn't have been able to achieve what I did without the unwavering support of so many people committed to making my dreams a reality.
'Thank you to my amazing parents and siblings who sacrificed so much since I was 12 to give me every opportunity to succeed.
'Thank you to my perfect wife who has always supported my dream and who never failed to step up and parent alone when I was away racing or on training camps for months at a time.
'Thank you to my coaches throughout the years for always steering me in the right direction and giving your all to my development as an athlete and as a man.
'Thank you to my children, Ronan, Riley and Quinn for being the best source of motivation an athlete could ever ask for, and for cuddles on the couch when I needed them most.
'Finally, thank you to all those who have supported me from afar, with kind messages when I won and more importantly, messages of support when I didn't.'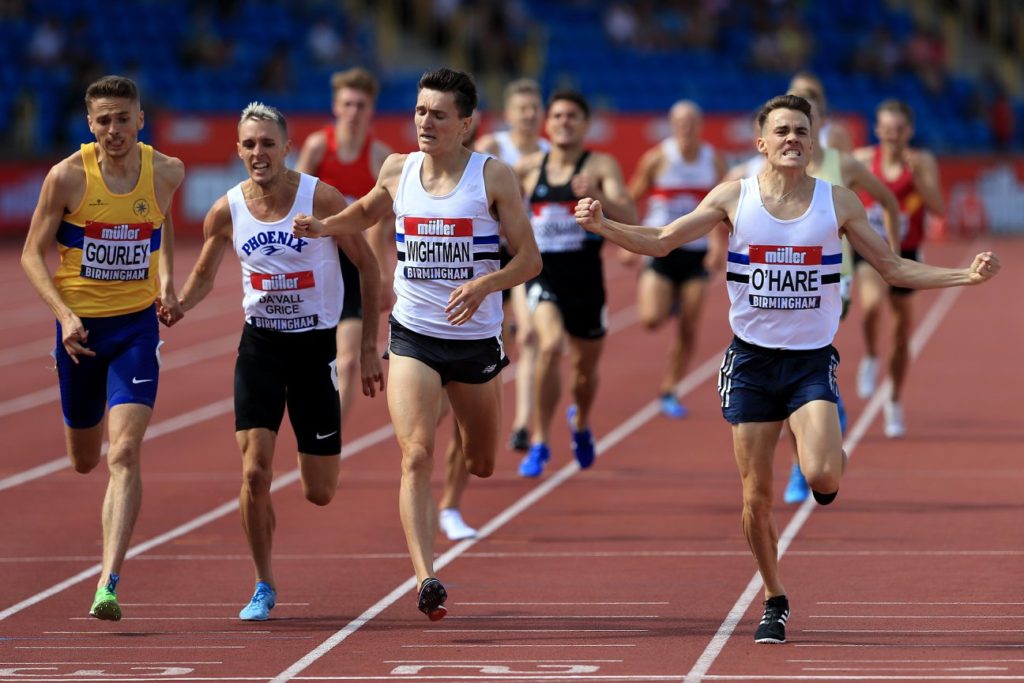 Chris also won Men's 1500m gold at the British Champs again a year later in 2018 (photo by Mark Shearman).
Tags: Chris O'Hare, Glasgow 2019, Prague, Rio, Zurich