Under starter's orders – focus on Barry Craighead
Familiar face – Barry Craighead has been a constant presence at scottishathletics events for many years (photo by Bobby Gavin)
By Katy Barden
'What's your game then?', piped up an inquisitive, slightly accusatory U11 after her Forth Valley League match 100m final was recalled.
The Pitreavie athlete been leading and wasn't impressed when Barry Craighead's recall gun went off.
Neither was Craighead; he'd misjudged the number of steps and fallen off the start box, accidentally firing the recall shot as he hit the ground.
'I was speechless,' he laughs. 'It was just the way she said it, this wee kid, I'll never, ever forget it.'
 A lifelong Edinburgh AC member, Craighead is one of the best known, liked and respected figures in Scottish athletics.
Formerly an employee of the Northern Lighthouse Board, a job which took him all over Scotland and to the Isle of Man, he's now in his 61st year as an official and has no plans to slow down.
He covered his first event, an open graded meeting at Newhaven, in the late 1950s, and having served his time and honed his skills at a multitude of local and regional events, he was appointed Chief Starter for Scotland in 1971.
He has since held a range of other senior positions including District Secretary and President of the Scottish Amateur Athletics Association 1983-84.
'Coming through the years I was lucky because Edinburgh hosted many internationals and I was at nearly them all,' he says.  'I was young, I was keen, and I was making the grade.'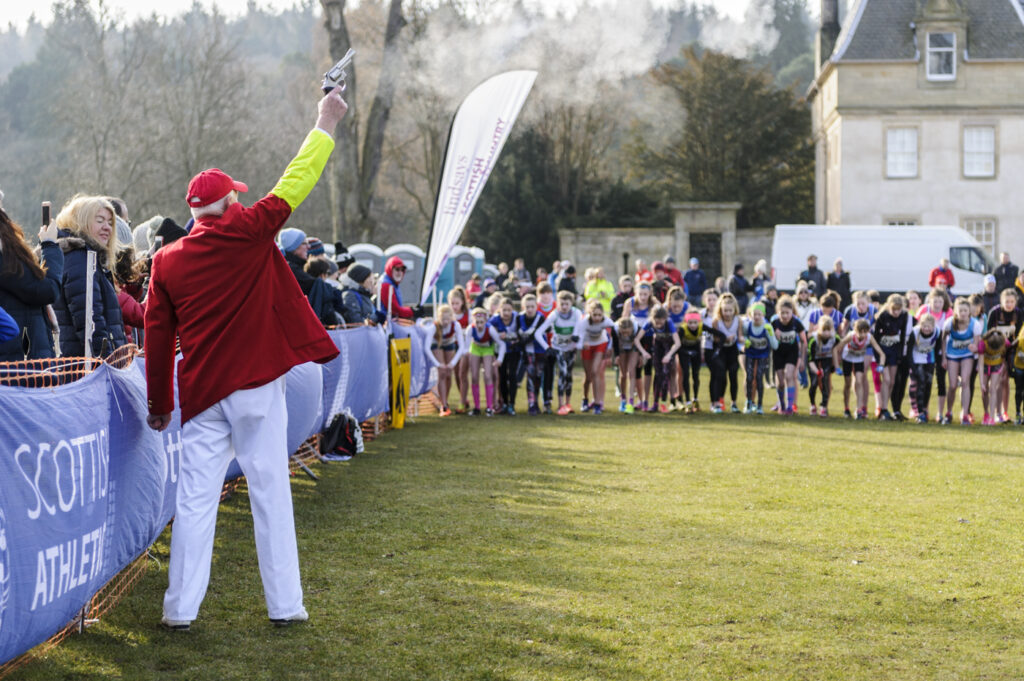 Barry on duty at the Lindsays National XC at Falkirk (photo by Bobby Gavin)
A former racing cyclist and accomplished runner (he won the British Army Cross Country Championships in Aldershot during his period of National Service), Craighead has covered a range of events throughout his time as an Official.
From 30 years as Starter at the Scottish Primary Schools Cross Country Championships, to Chief Starter at the 1986 Commonwealth Games and 2008 World Cross Country Championships in Edinburgh, to the Special Olympics in Glasgow to the Barcelona Olympics, he's been there, done it. He's also worked the Scottish hill race circuit and Highland Games meetings.
'It's been wonderful, I've had a great time,' he says.
'The Commonwealth Games in Edinburgh 1986 has to be my proudest moment, when I led all the officials on the final march round in front of the Queen. It has to be my number one highlight. Just an ordinary chap like me making that kind of grade.'
The 1992 Barcelona Olympics, too, were special.
Craighead, the only Scottish Official represented on that occasion, was part of a 'start team' who could be asked to cover any sport.
He was there under the banner of athletics – having been sent out to Spain and assessed a year previously for his suitability, skills and competence – but was allocated rowing, which for the first time was started electronically. It was a unique experience.
Not only that, but as an equally respected cycling official, he represented the sport for 12 years on the Commonwealth Games Council Cycling Technical Committee, including the 1970 Commonwealth Games where he was also involved in athletics.
He's courted some controversy along the way, including an infamous recall at the 2008 IAAF World Cross Country Championships in Edinburgh.
'It's the only World Cross that's had a recall,' he laughs. "The Frenchman and the Spaniard broke the line. I had a rope 100 yards down and when I fired the second gun they put the rope up.'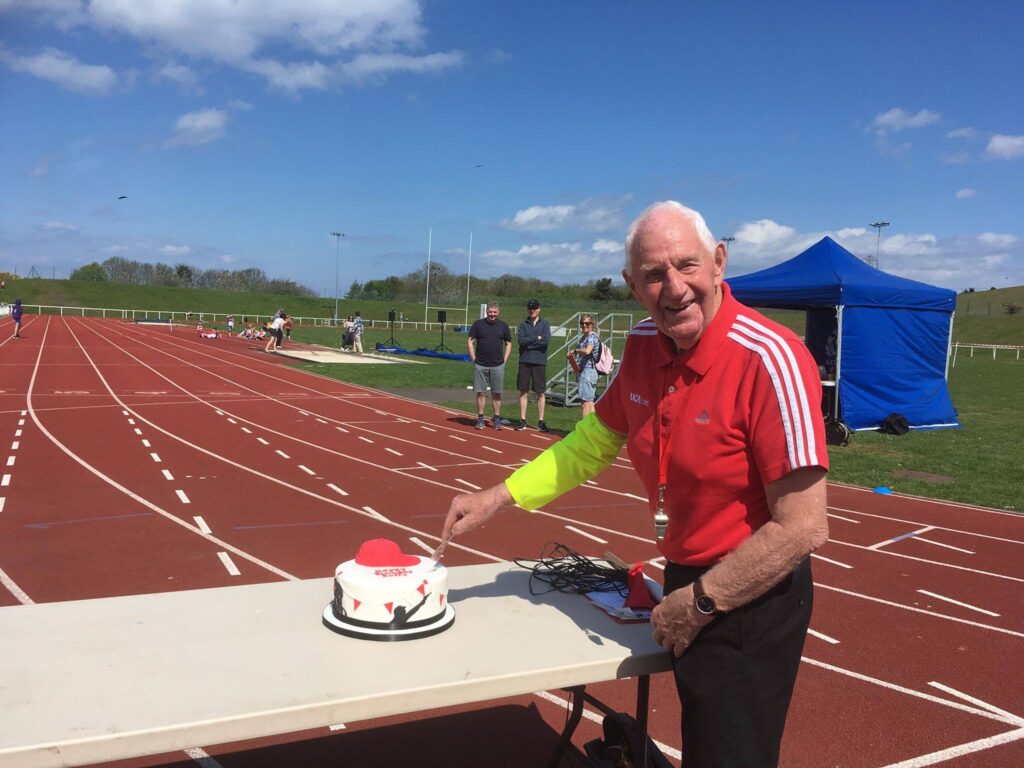 Barry celebrates his 80th birthday (photo with thanks to Team East Lothian)
While it took Craighead 11 years to progress through the ranks to an international starter, he believes today's young Officials are in too much of a hurry: 'They need to go through the right procedures and respect the process.'
He remains empathetic, however, acknowledging that today's young Officials are learning in a very different environment to the one in which he thrived.
'I had a lot of guidance and advice,' he says. 'Bill Fulton, Fred Evans – the first ever starter to be honoured – were mentors, as well as Charlie Meldrum. They were great guys.
'There are young Officials coming in, but there's a lot asked of them and it can put them off. Mentoring is probably the most important thing for them but there aren't enough of us to go around.'
The role of Chief Starter comes with significant additional responsibility; as a gun holder, they have to travel to events using their own transport and must ensure that their guns remain safe, and hidden, until they reach the venue.
It's also costly. A gun costs in the region of £400, in addition to ammunition.
But it remains an enduring love affair.
'It's a privilege. I never look at events and think it's my right to be there.'
And while he's a perfectionist, he can laugh at himself, too.
His recall run-in with the young Pitreavie athlete – which took place in the late 1970s – may have only been witnessed by those trackside, but when he slipped and fell at the 2014 BUCS Cross Country Championships, setting off the gun as he hit the ground, he took the lead role in a YouTube video viewed over 9000 times since.
'Aye, but it was a perfect start,' he says, with a cheeky glint in his eye. 'By the time I'd got up they were all away.'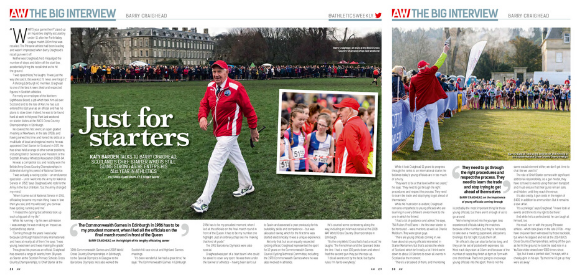 *A version of this article first appeared in Athletics Weekly. Big thank you to them and Katy for assistance here.
Tags: Barry Craighead, Katy Barden, Officials